Meet Mrs Jokic : Everything about Nikola Jokic's Wife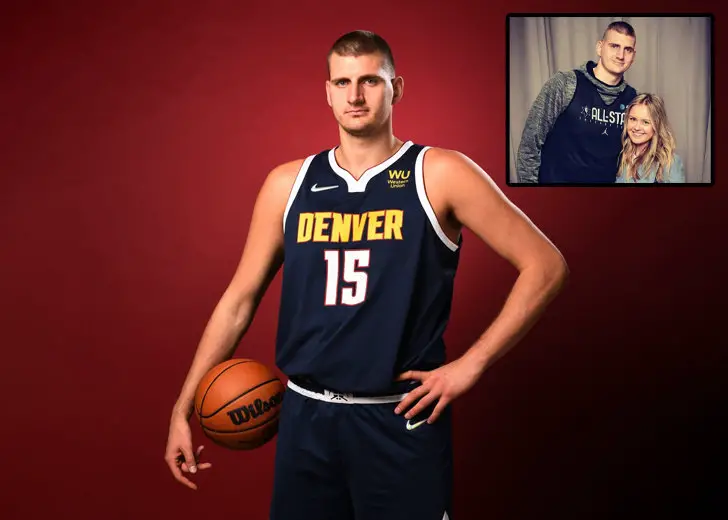 Being one of the most successful active center players in the NBA, Nikola Jokic receives a lot of attention from fans of the game.
Alongside Jokic, his wife and brothers are also often at the receiving end of the attention.
But despite the interest in Jokic and his personal life, the NBA star remains largely private about his life outside the court.
Who Is Nikola Jokic's Wife?
Jokic is married to his longtime partner, Natalia Macesic. Since the player has kept his personal life out of the spotlight, very little is known about his wife.
Similar to her husband, Macesic is also very private about her personal life. Her Instagram account is set to private and the few updates about their life together come from Jokic's rare posts about things outside the court.
Jokic and Macesic have a lot in common. For instance, both of them are from Sombor, Serbia, and are athletic. While Jokic is an NBA superstar, Macesic used to play volleyball at a junior college in Oklahoma.
Macesic is a psychologist who graduated with a degree in Psychology from MSU Denver in 2018.
Nikola Jokic and Wife
Jokic and Macesic have been together for a long time. Reportedly, the two have been dating since they were 16 and are high school sweethearts.
After almost a decade together, the two finally tied the knot on October 24, 2020, in their hometown of Sombor, Serbia.
The wedding was initially supposed to take place in June 2020 but was postponed because of the NBA changing its schedule due to the coronavirus pandemic.
Jokic had also tested positive for the virus in June.
Shortly after their marriage, Eurohoops uploaded a video from the couple's wedding. There, Jokic and his partner can be seen singing and dancing.
Jokic and Macesic welcomed their first and only child together, daughter Ognjena Jokic, in September 2021.
Miroslav Cuk broke the news via a tweet. "Welcome to the world, Ognjena Jokic! Please adjust your sleeping schedule before your daddy starts the next playoff run," he wrote. "Congrats Natalia and Nikola!"

Nikola Jokic announced the arrival of his baby girl with a picture of himself and his wife (Source: Instagram)
Jokic also confirmed the news with a picture of himself and Macesic on his Instagram.
"Jokic and his wife became parents. They got a little girl," the caption for the post read.
Nikola Jokic Is Close with His Brothers
Aside from his wife, Jokic's two older brothers also receive plenty of attention from his fans.
Jokic has two older siblings — Nemanja Jokic and Strahinja Jokic. They can be often spotted cheering for their little brother in his games.
In fact, Nemanja and Strahinja had a big role to play in Jokic, falling in love with basketball. Nejanja is a former Division I player who previously played at the University of Detroit Mercy.
Similarly, Strahinja is also a former basketball player. He has experience playing in Europe.
When speaking about Strahinja, Jokic said his brother wasn't "that talented" but had a very competitive spirit.
In a previous interview, Jokic shared he was teaching Macesic to play cards with his brothers.
He added he was getting her to cheat since it was the only way to win against Nemanja and Strahinja, who also cheated all the time.