Nicky Jam Confirms Dating Rumor with Venezuelan Model after Split from Ex Fiancee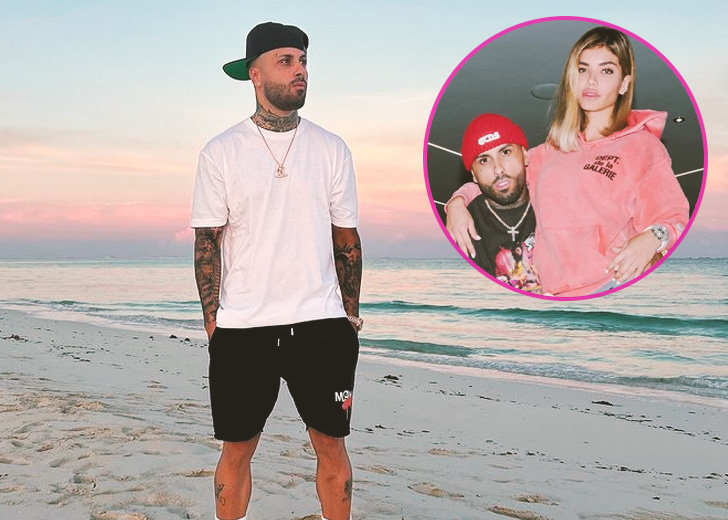 It seems like Nicky Jam has completely moved on from his past relationship. The singer-songwriter was in a relationship with Cydney Moreau for over two years. 
Unfortunately, their relationship did not last long since they split after a year of engagement in February 2021. Regardless, it did not take long for the singer to move on. 
Many people speculated he had moved on right after his breakup with his fiancee. This was because he was exchanging sappy comments and replies on Instagram with Venezuelan model Génesis Aleska.
Nicky Jam and Génesis Aleska
After many speculations, Jam finally confirmed that he was dating the model on October 22, 2021, via Instagram. He uploaded a picture of himself with his girlfriend sitting on his lap.
Aleska also made their relationship Instagram official by posting a photo with the singer. The pair did not reveal when they started dating, but it seems like they have been dating for a while. 
The pair got many positive comments under their picture, but Aleska is getting backlash for various things. First, the model was accused of using Moreau to get Jam.
This was confirmed by the Puerto Rican celebrity journalist Fernan Vélez, who reported on the pair before they were exclusive. Allegedly, Moreau gave a statement to Vélez where it was confirmed that the two models were friends. 
Second, Aleska was dragged for her previous relationships. She is being accused of being a former mobster and getting backlash for dating Maluma and Sebastián Yatra.
Genesis is said to have had a long-term romance with Miguel Mawad. He is a Venezuelan entrepreneur with ties to Venezuela's Chavista government.
It is alleged that his connections with the Venezuelan government resulted in his amassing an unimaginable wealth. According to different reports, the model got a comfortable financial situation because of her connection with him.
There were rumors that Aleska and Maluma were dating since the model shared a close friendship with the singer's aunt, Judy Arias. However, their relationship was never confirmed. 
Similarly, she was also criticized for flirting with Sebastián Yatra before he was in a relationship with his then-girlfriend, Martina Stoessel.
Nicky Jam's Previous Relationships
In February 2017, Jam married his girlfriend of two years, Angélica Cruz, in a private Catholic wedding in Medellín. J Balvin and Vin Diesel, two of his buddies, were among those who attended the wedding. 
Similarly, the marriage ceremony featured performances by the reggaeton band Gente de Zona and salsa singer Jerry Rivera. But, unfortunately, the marriage did not last for long.
The couple filed for divorce in August 2018, citing irreconcilable differences. Soon after the divorce, Jam started dating Moreau. 
The singer characterized their meeting as "love at first sight" when they met on the shoot of his music video for 'Atrévete.' Jam and Moreau got engaged on the occasion of Valentines's Day, 2020. 
However, the COIVD-19 pandemic and lockdown took a toll on the pair's relationship. They could not get married because of the restrictions, and the couple changed the wedding date. 
Unfortunately, that never happened, and the pair eventually split.