Inside Twitch Streamer Nickmercs and His Wife Emumita Bonita's Relationship Timeline
Nickmercs went down on his knees on the live stream to propose to his now-wife.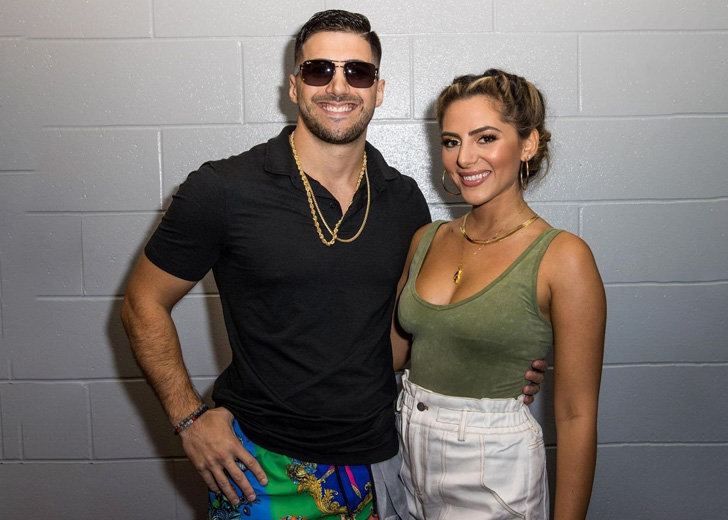 Nicholas Kolcheff, commonly known as Nickmercs, is a renowned Twitch streamer, YouTuber, and co-owner of FaZe. During his live streams, he plays games like Fortnite Battle Royale, Call of Duty: Warzone, and Apex Legends.
The internet personality — who was nominated for Twitch Streamer of the Year in the 12th annual Shorty Awards in 2020 — is partnered with several well-known companies and brands such as G Fuel, SCUF, Cash App, and Under Armour.
The famed streamer is also a happily married man. He has been married to his longtime girlfriend, Emumita Bonita, since October 10, 2020.
By the way, did you know Nickmercs went down on his knees on a live stream to propose to his now-wife? Scroll through as we bring everything you need to know about Nickmercs' beautiful relationship journey, as well as some facts about his career.
Nickmercs' Romantic Engagement Proposal
On July 8, 2019, Nickmercs went live on Twitch and showed his viewers a rose-lined living room with candles and warm lighting. And with his girlfriend upstairs, he played country music and tried hyping himself up while practicing to get on one knee.
Yes, the ambiance was set for a romantic proposal.
Meanwhile, the streamer also hilariously expressed his gratitude to his viewers for the help they've contributed in the build-up to the big question. "Thank you [Chat] for helping me buy a ring, good looking out," he said.
His then-girlfriend, Bonita, finally came downstairs, accompanied by Nickmercs' pet dog. He wasted no time getting down on one knee at the end of the flowery path to pop the inaudible question.
Following that, they shared a hug and smiled at the camera while showing the ring to viewers. Sometime later, Nickmercs posted a snap of Bonita wearing a shiny ring on her wedding finger with red roses in the background.
Happiest Day of Nickmercs and Emumita Bonita's Lives
Just over a year after the engagement, Nickmercs and Bonita tied the knot in October 2020. The 30-year-old streamer, who has 2.5 million followers on Instagram, took to social media to announce the wedding. 
On Instagram, he shared a series of snaps from the wedding day — in the first picture; the couple looked at each other with a grinning face. The other images also saw the two posing after the wedding ritual. Expressing his happiness, Nickmercs claimed in his caption that his wedding was the happiest day of his life.
But Who Is Nickmercs' Wife, Emumita Bonita?
Nickmercs' wife, Bonita, is a very private person whose limited media presence keeps her life under wraps. Interestingly, even the name Emumita Bonita allegedly isn't her real name, and it is a nickname given to her by her husband.
According to Looper, her real name might be Rio because the couple's wedding photographers referred to them as "Rio + Nick" while sharing the wedding photos on Instagram. But that is again not confirmed.
In addition, Bonita seems to have a real soft spot for animals, as evident in a video posted by Nickmercs in the midst of wedding planning. In the video, he told his viewers that his wife fell in love with the wedding location because "they have chickens."