Nick Saban and Wife Terry Are Going Strong Even after Five Decades of Marriage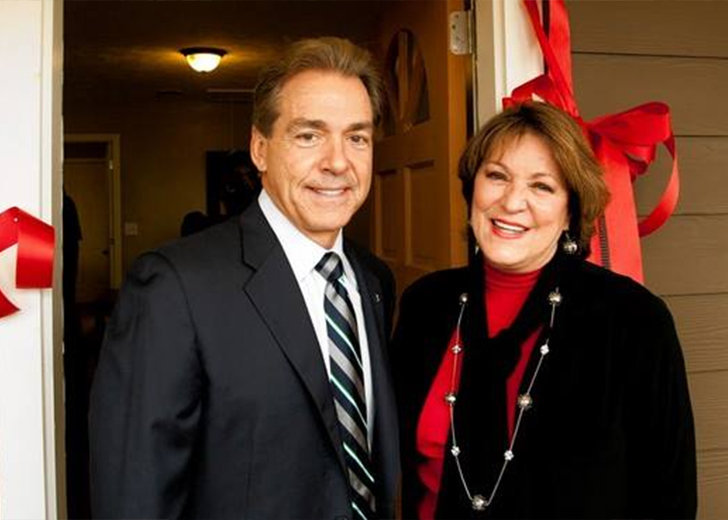 Nick Saban and his wife Terry Saban are the ultimate couple goals. The couple is going strong in their relationship even though they have been married for over five decades.
For instance, the football coach and his wife shared a PDA-packed moment after Alabama's Iron Bowl victory over Auburn on November 20, 2021.
Video footage shared by Barstool Sports showed Terry cheering and jumping up and down for her husband after his team clinched the win in four overtimes.
Nick also jumped in excitement when he saw his spouse — and later, they shared an emotional hug.
"Nick Saban and Mrs. Terry are the definition of marriage goals," the official Twitter account of Barstool Sports wrote.
Describing the couple's inspiring relationship, Patrick Pinak candidly noted an article for FanBuzz, "If Crimson Tide football were a movie, Saban would be the star actor but Terry is the director, producer, and screenwriter of this Oscar-winning film."
Nick Saban and Terry Saban's Daughter Adores Their Relationship
And it is not just fans and people on the internet who gaze at Nick and Terry in awe — the couple's children are also fans of their relationship.
From their long-lived married, the pair has two kids: daughter, Kristen Saban, and son, Nicholas Saban.
And especially Nick and Terry's daughter often takes to Instagram to express her love for her parents and gush about their relationship.
For instance, Kristen posted two pictures of her parents, showing "How it started" and "How it's going" on December 18, 2020. She posted them also to wish them their 49th wedding anniversary.

Nick Saban and his wife Terry Saban on their wedding day. (Photo: Instagram)
The first picture of the slide was apparently snapped at Nick and Terry's wedding back in December 1971, whereas the second picture was a recent one.
The couple's children and grandchildren regularly sit down with their mom on the stands and cheer for Nick's team.
Secret to Nick Saban and Wife's Long-Lived Marriage
Nick and his wife Terry have been together since they first met at a science camp in the seventh grade. Over the years, they became friends, lovers, husband and wife, parents, and now grandparents, too!
Both of them grew up in West Virginia with a passion for teaching. Following that, Nick fell in love with coaching, whereas Terry contributed to the education system in Tuscaloosa.
And on December 17, 2021, a day before the couple's 50th wedding anniversary, Terry was asked about the secret to her long-lived marriage at Nick's Kids event.
Addressing the questions, Nick's partner suggested that she felt communication is the key to longevity in marriage. "Love and forgive. That's life," she added.
She continued to express, "It has been such a joy in my life to walk hand in hand with a man who has been my best friend for 50 years," while saying the couple always had the same values and goals in life.
Terry later stated that she and her spouse had planned a family dinner with their two children to celebrate the special day.