Nick Diaz's Heartbreaking Story of Losing His First Girlfriend
Diaz had "loved her more than anything."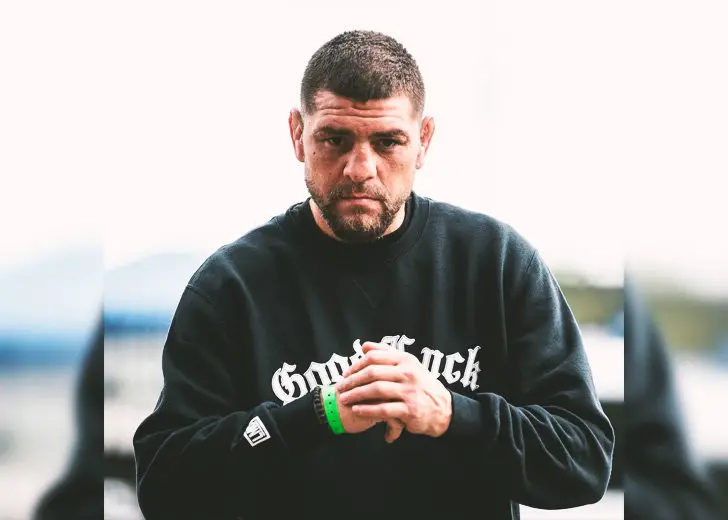 MMA legend Nick Diaz had a troublesome childhood growing up. As a kid from an unstable family, he moved from school to school, facing bullies and depending on prescription drugs.
The trouble intensified as his mother lost her house after a divorce from his father. Following this, Diaz moved to his grandparent's house in Lodi, California. He joined a new school and was constantly bullied. They would beat him up and put him on drugs. 
But as they say, every cloud has a silver lining. One good thing that happened was Diaz found his first love, Stephanie, in the school. He was head over heels in love with her, and the feeling was somewhat mutual. 
However, the relationship came at a price. Stephanie's ex-boyfriend, a senior and the mascot on the football team, made things hard. Diaz was frequently involved in big fights with members of the football team. 
In consequence, he was kicked out of the school. To find a balance in his life, the Stockton native started training to be a pro fighter.
The unforeseen change brought a rift in his relationship. And his girlfriend started hooking up with his friend, Bart, to make him jealous. The estrangement, however, disappeared once the duo talked at Bart's party. 
Henceforth, the pair planned to go to Stephanie's house with her brother. But as Diaz's friends weren't doing that great, he headed to his home, only to find what was coming next would change his life forever.
Nick Diaz's Girlfriend Died By Suicide
Just an hour after Diaz reached his home, he got a surprising call from his girlfriend's mother. She asked if Stephanie was with him. He said no, and within minutes, she was in front of his house.  
Without speaking much, she took him to the Frontage Road on Highway 99. Upon arriving at the freeway, the professional fighter saw an ambulance and a car. It didn't take him long to realize that his girlfriend had committed suicide. 
It was Stephanie's third attempt at killing herself, and sadly, she had succeeded.
Her unexpected death changed Diaz forever, and he found himself running seven miles and back repeatedly, visiting her grave to promise he would make it as a fighter. After all, Stephanie had believed in him and said she was proud of him.
Honoring her trust, Diaz has etched his name as a competitive fighter in the fighting world.  
Diaz shared accounts of his heartbreaking love story to MMA Fighting in September 2015, after he was suspended from UFC for five years. 
Does Nick Diaz Have a Wife?
Since the tragedy, Diaz has moved on in his life. He was reportedly dating a woman named Heather Nikole around 2015. But the details of their relationship and breakup were never public knowledge.
With that said, the 38-year-old has not been romantically linked with any woman since the split. His Instagram is also void of hints of his personal life. 
Ergo, it is safe to say that Diaz doesn't have any girlfriend, let alone a wife, at the moment. Instead, he has been focusing on his career since returning to the octagon. He fought Robbie Lawler at UFC 266 on September 25, 2021.