Nate Diaz Says His Brother Nick Diaz Was His Role Model
"My brother is my fearless leader."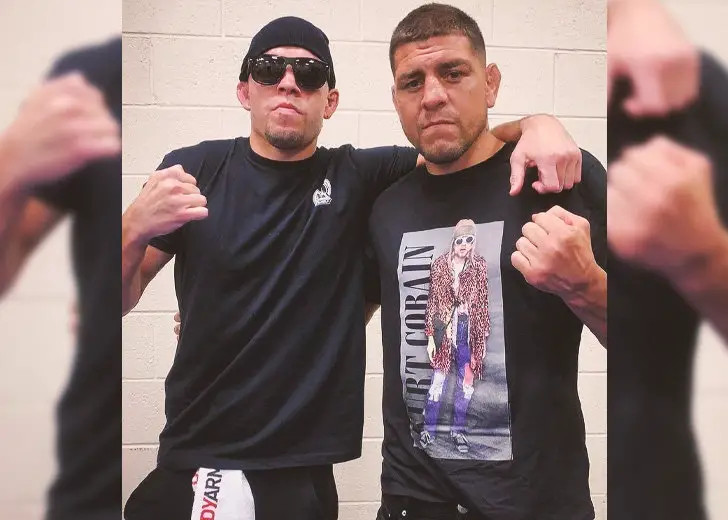 Nate Diaz is one of UFC's biggest stars who fought his way from Stockton to UFC royalty. Nate is of American nationality but belongs to the Mexican ethnicity. He grew up in a small, one-story house in Lodi with his mother, older brother, UFC welterweight Nick Diaz, and sister. 
His parents were divorced, so his father was not around much during his childhood.
Historically, Stockton had a relatively high violent crime rate, and there were fights all the time because of it. While Nate did not grow up in the middle of it, he was always ready for a row, and he brought this mentality with him to the octagon. 
He is always all in for a fight. His brother calls it a curse, but he refers to it as a "kill or be killed" disposition. When Nate was 13, Nick started training to fight while working as a cook, and he eventually joined his brother. 
Nate Diaz Following the Leader
Nick, who was Nate's guide throughout his childhood, was also an influential gateway into MMA. The two brothers share an indelible bond both in life and in their careers. 
In an interview with Megan Olivi for 'The Exchange' on the UFC - Ultimate Fighting Championship YouTube channel, Nate shared about the bond he had with his brother. The fighter noted his brother was a leader for him, and he just followed everything his brother did. 
His brother was already busy training to be a fighter while Nate had stopped going to school and was hanging out with the wrong crowd, doing things he wasn't supposed to do. Then, one day, he got into a fight at school, and when his brother heard about it, he took Nate to the gym. 
That's when the brothers realized Nate was a natural boxer, and he also really fell in love with jiu-jitsu. His brother boosted his confidence and would give him advice, which he would listen to. 
Nick is my fearless leader, and we got a whole academy, Nick Diaz Academy at Stockton. He put me on a lot of good paths. 
His brother also introduced him to veganism, which he credits for his health. He shared that Nick had cut out all the dairy and meat because it made him feel heavy and slowed him down in a fight. 
Nate had never seen his brother go down in a fight. He realized it was because of his diet, and he followed suit. He noted he followed the leader, his brother, from then on. 
Following his brother had paid off as Nate is widely regarded as one of the greatest mixed martial artists of all time.