UFC Hall of Famer Michael Bisping Says His Wife and Kids Inspire Him to Work Harder
Michael Bisping says everything he has achieved is because of his wife and kids.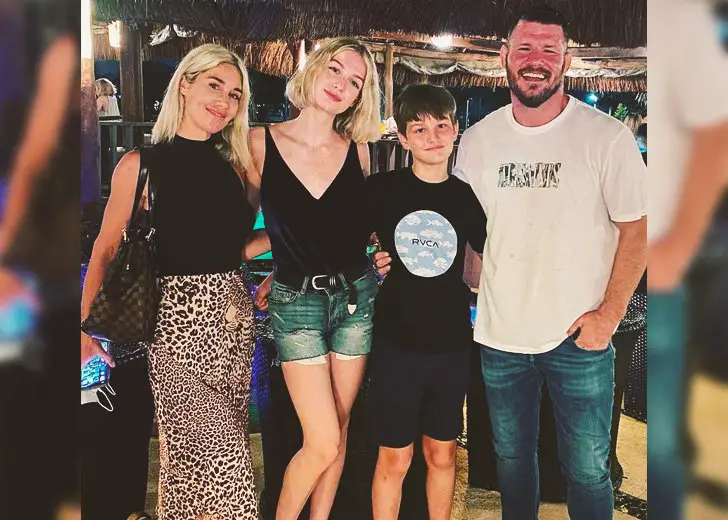 One of the most notable figures in MMA history is former UFC middleweight champion, Michael Bisping.
Bisping finished his career with a UFC tenure that only the elite athletes in the sport could dream of. Between 2009 and 2013, he almost won major title fights but suffered four critical losses. 
His MMA ascension to the top was filled with difficulties, but "The Count" kept at it until he finally reached the pinnacle when he claimed the UFC middleweight title in June 2016. He beat his opponent Luke Rockhold by KO in the first round and became the first-ever British champion in UFC history.
In 2019, he was inducted into the UFC Hall of Fame, becoming the fifth inductee. Although Bisping was a celebrated fighter, he kept his personal life private. Here we will look into family life with his wife and three kids. 
Michael Bisping and His Wife, Rebecca Bisping
Micheal and his wife, Rebecca Bisping, have been together for 22 years. On August 26, his wife took to Instagram to upload a photo of her and her husband in honor of 22 years of togetherness. In the caption, she thanked Bisping for all that he did for her and the kids. 
Rebecca was raised in Adelaide, Australia, and although there is no information on how old she is, she celebrates her birthday on October 30. However, despite her husband's massive success and fame, she has kept her life under wraps and away from the media's scrutiny. 
The duo tied the knot in 2014, after 15 years of being together. Rebecca was often spotted cheering for her husband during his fights. In an episode of 'UFC on the Fly,' Rebecca shared that she never read forums about her husband because they didn't know what he was really like, which she found frustrating. 
Rebecca revealed Bisping is a kind father and a kind-hearted guy, and people don't get to see that side of him. Family is everything to Bisping. During a 'Fight Night London' episode on UFC's YouTube channel, Bisping relayed how important family was to him.
He noted that his wife and children were everything to him and that home was wherever they were. He added that they were the ones who motivated him to better his life. 
Michael Bisping's Kids
Bisping and his wife have three kids; sons, Callum Bisping and Lucas Bisping, and daughter, Ellie Bisping. 
His oldest son, Callum, is currently 20 years old and an accomplished wrestler. He competes in NCAA Division II out of San Francisco State University. Callum is also skilled in jiu-jitsu like his father and claimed a silver medal at the SJJIF World Jiu-Jitsu Championship in California at 14. 
Bisping's daughter is 18 years old, while his youngest is 11 and following his father and brother's footsteps. The proud father often shares his kids' accomplishments on his Instagram.