Inside Niall Matter and Wife Sara's Married Life with Children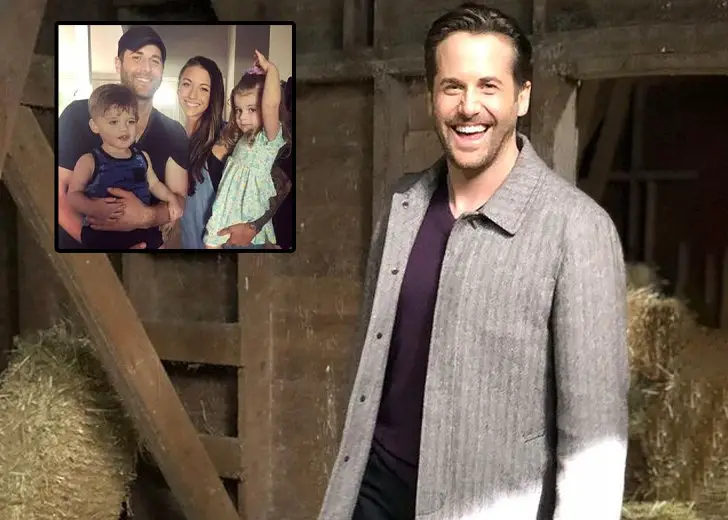 Niall Matter is married to his wife, Sara Matter. The pair have two children together, and she has shared plenty of family pictures.
Neither Matter nor his wife, on the other hand, have said anything about their relationship.
It's not clear when or how the two first met. The couple's wedding date is also unknown. Although IMDb lists Matter's wedding date as December 2016, many think it occurred in July 2016 or earlier.
The actor shared a picture of himself and his wife kissing while wearing flower garlands. The couple was dressed entirely in white, and it's believed to be a picture from his wedding.
It seems to be likely accurate as Matter said his working relationship with Hallmark began when his family started.
Married with Aloha had similarly reported that the Stop the Wedding star had married his spouse in Kauai, Hawaii.
Wife and Children
After his marriage, Matter and Sara have welcomed two children, a son, and a daughter.
The pair became parents for the first time the same year they tied the knot by welcoming a daughter.
Their family of three grew larger two years later, in 2018, when they had a son.
In an interview with My Devotional Thoughts, Matter revealed how fatherhood had changed him.He shared that he didn't feel obligated to give his everything to acting as he now had to focus more on his family.
"I was hitting the pavement a lot harder before and trying to get my face out there a lot more, but with the family, I want to really enjoy this time with my wife and my daughter," he said.
Similarly, Matter noted having kids had softened his heart when talking to Media Village.
The Stop the Wedding actor has also opened up about how splitting time between family and career could sometimes be challenging.

Niall Matter with his family (Source: Facebook)
Matter was moving between the sets of The Predator (2018) and Finding Father Christmas (2016), having little time to spare.
It was difficult, especially since he had a three-year-old and a one-year-old at the time. He called his partner a "saint" and said she was amazing for taking care of the kids while he was away.
Niall Matter's Acting Career
Matter is best known for his works in Hallmark movies, and series such as Stop the Wedding (2016), Finding Father Christmas (2016), and When Calls the Heart (2017).
He only started working with Hallmark Channel in 2016. However, he has been actively working as a professional actor for far longer.
According to Matter's IMDb page, his earliest acting credits are from 2007 when he worked on The Best Years (2007) and Stargate: Atlantis (2007-2008).
Before working as an actor, he used to work in an oil rig. He began working there at 17 and continued for eight years.
When he turned 25, he had a significant accident involving a 17-ton drilling rig. When he was rescued and moved to the hospital, they initially wanted to amputate his leg.
Thankfully, he could keep it intact, and he learned to walk again after half a year of recovery and extensive physiotherapy.