Nessa Barrett's 'Copycat' Kendall Monroe Speaks Up Amidst Outrage Amongst Fans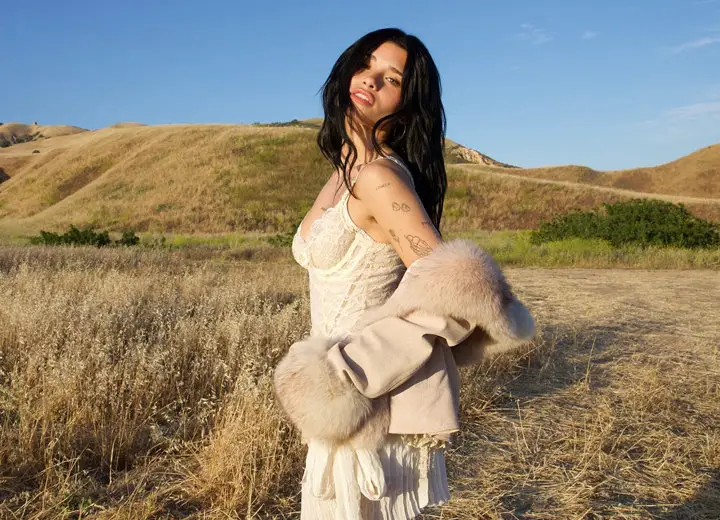 For the past few months, fans have called out TikToker and "copycat" Kendall Monroe for blatantly copying Nessa Barrett. 
Over on TikTok, there are several fans' edits that have stitched Barrett and Monroe's TikToks to compare just how much the latter copied the pop star. Monroe seems heavily influenced by Barrett if the video comparisons are any clue.
The TikToker wears the same outfits as Barrett and has the same hairstyle. For example, in one video, Barrett was wearing a black biker short set with her hair in double braids. Likewise, Monroe has a video where she is wearing the same outfit and hairstyle. 
In other videos, Monroe also allegedly copied Barrett's poses, lip-syncing facial expressions, and the overall vibe and aesthetic of her TikToks. In one instance, fans noticed Monroe copying the singer's TikTok live video where her hairstylist was curling her hair. 
It could be a coincidence, but fans believe Monroe is copying Barrett. After months of being called out a copycat, Monroe has finally addressed the issue. 
Kendall Monroe Insists She Is Not Nessa Barrett's Copycat
On September 1, 2022, Monroe uploaded a TikTok video titled "Speaking the truth." She tagged the video as mental health matters and depression awareness. 
She started the video by apologizing to Barrett, claiming she had not meant to make the singer uncomfortable over the past couple of months. She clarified she was neither obsessed with the 'La Die Die' singer nor wanted to be like her and added she supported anti-bullying, positivity, and kindness.
According to Monroe, she started her TikTok account in late May, based on an experiment to understand how much hate there was in the world of social media. 

Kendall Monroe responds to haters calling her Nessa Barrett's copycat. (Source: Instagram)
"Even though I don't read the 1000s of hate comments on my page daily, every once in a while, I would read and try to comprehend how somebody can be so hateful towards a person who they never met, This does not just happen to me and actually happens to all creators," said Monroe. 
She added that these keyboard warriors did not understand how much their words impacted the victims' mental health. Monroe ended the video by asking people to stop spending their energy on posting hateful comments. 
Nessa Barrett Responds to Kendall Monroe
Shortly after, Barrett commented on Monroe's video.
The comment has already been deleted, but it was screengrabbed by tiktokinsiders. Her response suggested she was not buying Monroe's apology or explanations. 
Monroe has not responded to Barrett's comments and instead uploaded a new video teasing a snippet of her first single. She had recorded her laptop with a screensaver of a black heart and the words "bad to me" written on top of it. 
Unfortunately, in the comments section, netizens accused her of copying Barrett again.
"I thought this was an experiment, bestie. Is the experiment not over?" commented a user. Another user commented, "why is the heart like in the exact shape of Coop's necklace that Ness has?"
Some even noticed that the fonts she used looked exactly like the ones Barrett used for her 'Counting Crimes' single. Many netizens were asking Barrett to sue the "copycat," but it remains to be seen how Barrett will respond.