Nate Burleson Credits His Wife for His Achievements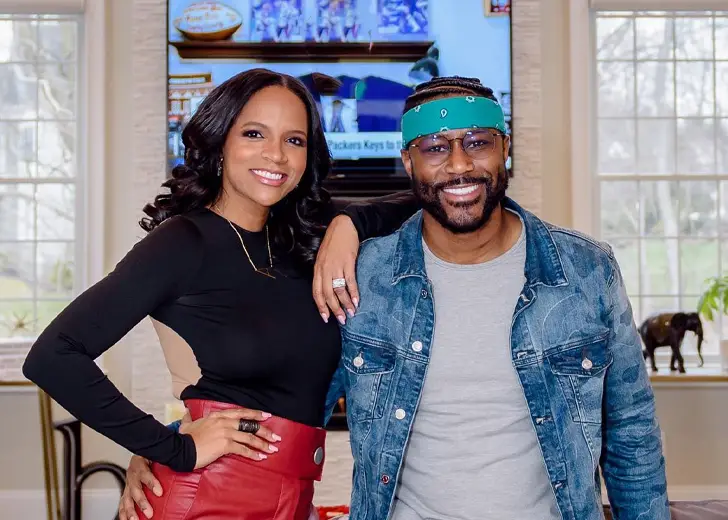 Nate Burleson was drafted in the third round by the Minnesota Vikings and played as the wide receiver for the team. 
After 11 years, he traded his cleats for a microphone and began his television career in 2014. 
He worked as an entertainment correspondent for Extra, where he interviewed high-profile celebrities such as Michelle Obama, Jennifer Lopez, and Senator Cory Booker. The former wide receiver also served as a host on Good Morning Football on the NFL Network for five years. 
He left the show in August 2021 and joined as a co-host on CBS Mornings (formerly CBS This Morning) alongside Gayle King and Tony Dokoupil.
That same year, the longtime host won the Sports Emmys Award for Outstanding Sports Personality/Studio Analyst at the 42nd annual Sports Emmys.
If his experience and award are anything to go by, it is that Burleson is skilled in his craft. 
And Burleson credited his wife, Atoya Burleson, for his success during an interview with the New Jersey Family. 
Burleson Credits His Wife for Success 
During the interview, Burleson and his wife opened up about their family, work, football, and what they loved about living in New Jersey. 
While speaking about football, he iterated that his football career went way back than the NFL. 
The athlete played college football at the University of Nevada, and while he was there, he also met his partner.
"Atoya, being an intelligent woman, a track star, graduating, going to get her masters. Without her, I wouldn't have accomplished half of the things that I did. I'm a blessed man so many times over," said Burleson.
The two tied the knot in 2003 and are raising three children together: Nathaniel Burleson II, Nehemiah Burleson, and Mia Pearl Burleson.

Nate Burleson with his wife and children. (Source: Nate Burleson/Instagram)
Like Burleson, his wife wears many hats. She hosts her podcast, inSIDELINES, which discusses everything from being an NFL spouse to motherhood, entrepreneurship, work-life balance, and racism. 
She also runs her lifestyle blog, covering topics about fashion, home décor, cooking, wellness, and parenting. 
Through her work, Atoya hopes to celebrate women excelling in different fields and spread their stories to the public for a positive impact. 
Nate Burleson and His Wife on Raising Their Kids
During the interview, Burleson and Atoya also touched on how they raised their three kids, from the value they imparted to the love they share for football. 
As an athlete who played football for over a decade, Burleson is excited that his sons share a love for the sport. 
"The one thing I can proudly say as a father is I've never pushed sports on them. I never pushed the NFL or football on them. Their love for sports has come organically," he said. 
However, he had second thoughts whenever his sons suffered injuries. 
He wondered if he was putting them in the best position to stay healthy when they were playing a sport that could be a little physical sometimes.
Besides encouraging their children to do sports, the parents ensured they practiced positive reinforcement. 
Atoya shared that their family practiced self-mantras and family mantras and looked for something positive to say to each member of our house every week.