Know Nate Bargatze's Wife Laura, Daughter, Tour, Hello World & Net Worth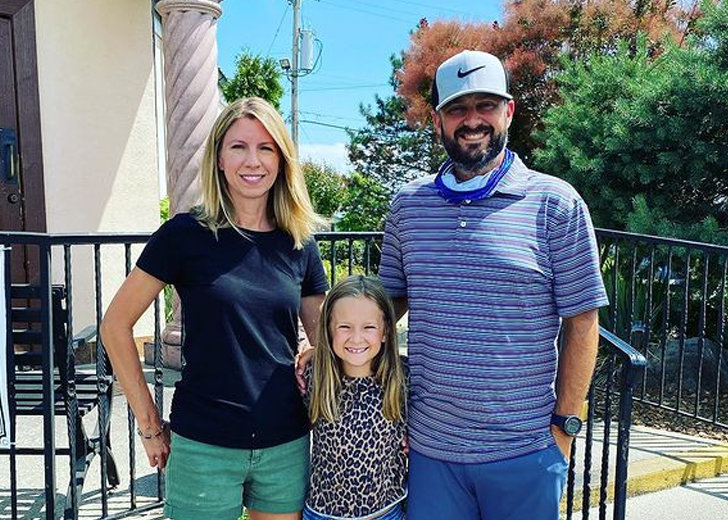 "Dubbed by Atlantic as the "The Nicest Man in Stand-Up," Nate Bargatze often derives material for his comedy from his everyday life experiences, including his interactions with his family, friends, wife, and his daughter.
In 2023, his famous stand-up special Hello World was released on Amazon Prime and it became the platform's biggest comedy special debut.
Over the years, Bargatze has shared many stories regarding his family on his shows, including about his cheap wedding, his dependency on his wife, how he met his wife, how they felt seeing her ex-boyfriend, and her silent treatments. 
 But his piercing sarcasm has brought laughter more than offended eyes because of his family-friendly slow, build-up style of inoffensive humor.
In this article, we exclusively cover about the Nashville native's age, wife, daughter, tours, stand-up special Hello World, and his net worth. 
Nate Bargatze met his Wife At Applebees
Bargatze and his wife Laura Bargatze met for the first time at Applebee's on Thompson Lane.
Both of them were in their early 20s at the time: she worked as a server and he worked as a host.
They were just friends initially, but The Little Mermaid's soundtrack brought the two together.
Laura shared the story in an episode of the Nateland podcast.
"We were friends at Applebee's and everyone was going out… after work, just friends. He put in The Little Mermaid soundtrack and told his friends to like, 'Shush, shush. I'm listening to this song,'" she revealed.
Laura described finding Bargatze's actions at the time as "totally confident" and "cool." They began dating when he was 21 and he has joked about it in multiple instances.
On top of being the source of much of his comedic material, Laura has also played a very vital role in his success. Though the two got together before his career as a comic took off, she has supported him throughout his journey.
According to her LinkedIn profile, she currently serves as a talent manager at Bargatze Enterprise. She is also an executive producer at Bargatze's Nateland podcast.
Bargatze also joked about their bonding at Applebees in one of his stand-up routines. He said that his wife thought that he could never make it to the server because they had lots to remember. 
Nate Bargatze and his Wife welcomed their Daughter in 2012
The comedian and his wife tied the knot on October 13, 2007.
While he hasn't revealed the exact date of their marriage, he wished her a happy 14th anniversary on the date in 2020.
He also talked about holding his wedding on a particular date on one of his shows.
The comic joked about having an easy time securing a venue for his big day as no one had booked any hours for Friday the 13th.
Five years after their marriage, the pair welcomed their first and only child, daughter Harper Blair Bargatze, in 2012. She was the one to announce her dad Nate Bargatze on his Netflix special, The Tennessee Kid. 


Nate Bargatze with his daughter (Source: Instagram)
Like him, she was born in Tennessee and it was one of the reasons why he named his Netflix comedy special The Tennessee Kid. 
"I guess you could say it's me. Then again, it might be my daughter, too. I guess it's both of us. We're both Tennessee kids. Honestly, I just wanted to get 'Tennessee' in the title of the show," he revealed.
Aside from influencing the name of his show and frequently being the subject of his jokes, Harper has also made appearances in his Instagram posts.
She has appeared in several promotional videos for his shows and she even introduced him on The Tennessee Kid.
Bargatze regards his wife and daughter as his biggest fans and is happy that they are cool with his profession. 
How old is Nate Bargatze? 
As of writing, Nathanael "Nate" Bargatze is 44 years old. He was born on 25 March 1979 in Old Hickory, Nashville, Tennessee, U.S. to Italian descent father Stephen, a magician and motivational speaker who previously worked as a clown, and mother Carole Bargatze. 
What is Nate Bargatze's Net Worth?
Bargatze's estimated net worth is $5 million dollar. Bargatze also runs a podcast caleed The Nateland Podcast, which he has been featured on his Youtube.
Bargatze had two stand-up albums, Yelled at by a Clown and Full Time Magic, and high-profile touring experiences before his half-hour special released on Netflix in 2017 as part of its comedy streaming project The Standups.
While the half-hour special was a relative success, his 2019's released The Tennessee Kid and his 2022's release The Greatest Average American (nominated for 2022's Grammy) stand-up specials completely transformed his career, as it brought him closer to a wider audience base that grew every day. 
"The special has changed everything. Netflix is an unbelievable platform for stand-up comics. It just stays up there forever. Every day, you have people discovering you. It's the best thing that has ever happened to me, except for my family," Bargatze said of The Tennessee Kid. 
In 2023, his The Be Funny tour made the venue's attendance record with 19,365 people at the Bridgestone Arena. 
In the distant past, he had several career experiences before pursuing a career in comedy. He did several stints during his college days, including working as a host at the dine-in restaurant Applebee's (where he met his wife).
Later, he was reading meters in Mt. Juliet when he decided that he would pursue comedy after a friend of his pitched the idea to him. After that, he took improv comedy classes with a friend at The Second City, moving to Chicago in 2002.
But he realized that his heart was set on standup comedy and switched to its classes from improv. The next two years after that, he performed in open mics before moving to New York in 2004 to make it big, partly inspired by Jerry Seinfeld's Comedian (2002), a re-invention documentary about the famous comedian's return to comedy clubs. 
The tour will run till December 2023 in diverse places across the United States and the tickets ( price $35 up and below $100) are available on his website Natebargatze Live.