Naomi Scott Met Her Husband Jordan Spence at the Age of 16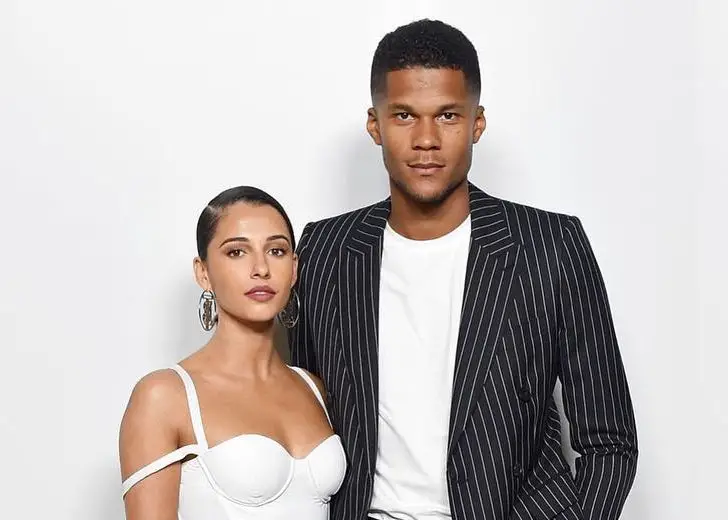 Naomi Scott never thought that she would get married young. 
But she did.
Now, the Aladdin actress lives happily with her husband, Jordan Spence, just outside Colchester, newer Ipswich Town. But that might change anytime. 
After all, she is a pro athlete's wife, and their address can change at the drop of a hat should he sign onto another team.
Naomi Scott Started Dating at 16
During an interview with Vogue, Scott recalled meeting the man who she would go on to call her husband. 
"With the boy thing, it wasn't that I wasn't allowed, it's that I wasn't thinking about it," she shared. 
It was just that getting herself a boyfriend wasn't on top of her to-do list. She had much bigger ambitions that she would rather realize. 
"I had all these big things I wanted to go and do, go and take over the world," she offered. 
But then she met Spence when she was 15 or 16; she couldn't really tell. She could say for a fact that he was a tad bit older than she was. 
Right off the bat, she affirmed to the outlet that she felt as if she and Spence could "do life together."
Jordan Spence Is a Sweetheart
Turns out, Scott's husband is quite the sweetheart. 
Although she so approvingly pointed out, "He's a complete gangsta," she was quick to sing praises for her beau. 

Naomi Scott and Jordan Spence pose for a picture (Source: Twitter)
Spence admittedly cooked for her every night. She would whip something up for him on occasion, though. 
"But when I do you don't stop hearing about it," she honestly confessed. 
"I'll go, 'Do you remember that meal I cooked three months ago?' And he'll be like… 'Yes, mate,'" she added. 
Naomi Scott Danced Often with Husband
Scott and her husband also make it a point to groove to a few funky beats fairy often. It worked like therapy for her eczema. 
The day prior to her interview, the couple was dancing to Donell Jones and Jon B, all old-school R'n'B.
"Apparently dancing is good for [eczema] - well, it stops me itching mine at least," she shared, "When I scratch, Jordan will put on a song and be like, 'Quick, dance, go!'"
Naomi Scott & Her Husband Want to Be a Power Couple
In a different interview with the same outlet, she shared how her religious beliefs had been at the heart of her marriage. In fact, she first met her husband through her parents' church. 
[My faith is the foundation] of every decision I make, and of my marriage.

Naomi Scott & Jordan Spence on their wedding (Source: Twitter)
She was 21 when she tied the knot with Spence. She was also unabashedly honest about her ambitions. 
She shared that from a young age, she aspired for herself and her partner to be a power couple. She wanted it all. 
She wanted to make all the money and have a big house, but at the same time, she would constantly evaluate her life and her spouse's to see if they could make it without their respective statuses. 
Would she be fine, never doing a movie again, or him never stepping into the football pitch? Would their world fall apart?
Sadly, the answer to that particular question did not make it in the published transcript.