Nandi Bushell Gets Compared with The Beatles and Pink Floyd by Foo Fighters' Dave Grohl
Nandi Bushell started playing drums when she was five.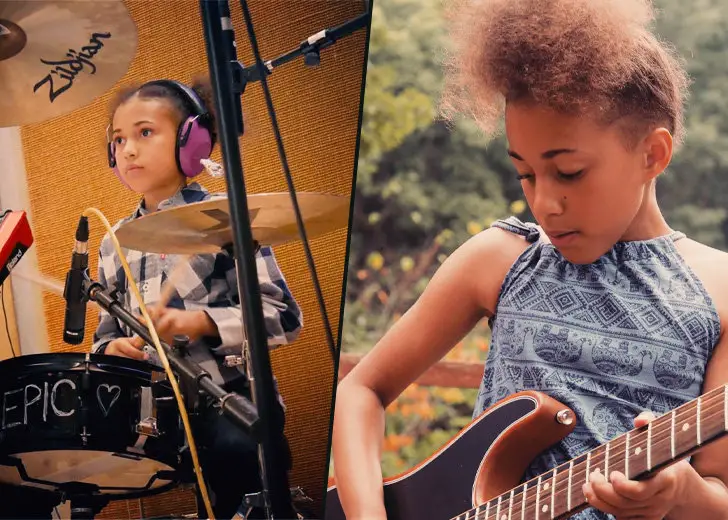 Dreams do come true. 11-year-old drummer Nandi Bushell presumably felt the same when she realized her dream of playing on stage with her musical hero and Foo Fighters frontman Dave Grohl.
On August 27, 2021, Bushell played the drums for the band as they recreated their 1997 hit 'Everlong' during their live performance at The Forum in Inglewood, California. 
"It happened!!! It was #EPIC!!! Thank you so much @foofighters!!! I had the best night ever jamming with you at @TheForum! Thank you so much Mr. Grohl and Taylor! #foofighters," she wrote on Twitter.
Compared with Musical Legends
While on stage, Grohl had some good things to say about Bushell, who lives in Suffolk, England.
He first called her "the most badass drummer in the world," before he complimented her on being no less than the rock bands — including The Beatles, Pink Floyd, and The Rolling Stones — he had played with over the years.
We've [Foo Fighters] had the honor to jam with some pretty amazing people over the years. Some Beatles, some [Rolling] Stones, some Pink Floyds. But this one right here takes the cake.
The 52-year-old musician proclaimed it was the first time he had come face to face with his "arch-nemesis," humorously endorsing Bushell's talent.
Bushell's Emergence
The young talent rose to prominence after her performances became popular on YouTube in 2019, one of which included her rendition of 'In Bloom,' a song by Grohl's previous band Nirvana.
Amid the pandemic, she posted another video of her taking on 'Everlong' along with a drum-off challenge aimed directly at her musical hero. The video reached Grohl through his friends, who got excited about seeing someone challenging him to a drum-off.
"So I'm like, 'Isn't that nice?' I kind of brush it off. But all my friends tell me, 'No dude, you have to step up. This is the real deal. This is a drum-off," he told the crowd at The Forum.
Bushell and Grohl eventually faced each other in an epic online drum challenge, which ended with the younger one winning over the famed drummer.
Afterward, the Grammy Award-winning singer dedicated a song to Bushell, writing about her and her musical gifts, in September 2020. He also surprised her and invited her to play with the band on stage.
Her Parents Backed Her Skills
Bushell's parents, John and Lungi, noticed that their daughter was naturally gifted to play drums when they bought her a toy drum set. At the time, she was only five but didn't fail to impress John, who was into drumming since his teenage years.
And while he was determined to let her enjoy her interest and go as far as possible with her music, Lungi, who hails from the coastal South African province of KwaZulu-Natal, wished to ensure that the couple's children stay connected to their South African roots.
Bushell also has a younger brother, Thomas, who keeps a keen interest in playing guitar. The 8-year-old is an art lover, a footballer, and a software developer.