Is Myles Garrett's Girlfriend His Wife Now? Did They Marry?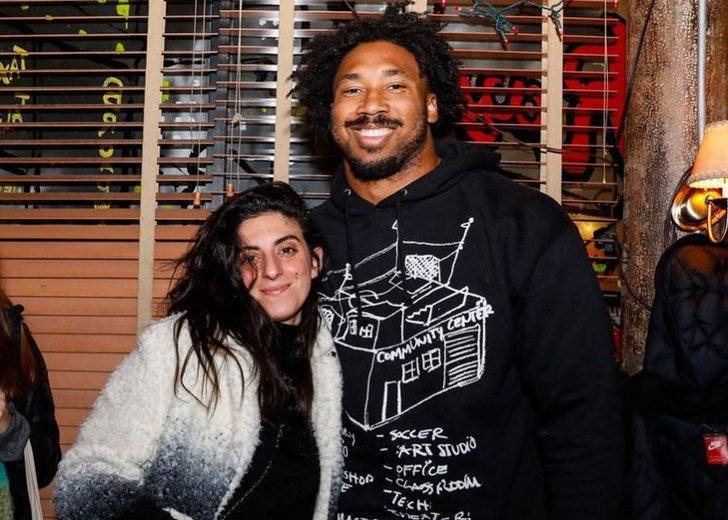 NFL player Myles Garrett was in a happy relationship with his girlfriend, Serra Tumay. While it is unclear when and how they began their relationship, it was evident that they were head over heels in love with each other.
The two often posted pictures and videos featuring one another on social media — and they were totally adorable together.
But now Garett (@flash_garrett) and Tumay(@serratu) have surprisingly gone silent regarding their relationship, and they are no longer posting about one another on their social media accounts. Additionally, Tumay's Instagram has also been switched to private mode, and her name seems to have disappeared from Garett's life, leading many people to believe that the pair has already broken up. 
So, here is a rundown on everything you need to know about the Cleveland Browns star's sweetheart.
Myles Garrett and his girlfriend often traveled together
Previously, a quick glance into Garrett's girlfriend's social media showed that the two enjoyed traveling to different places together.
The two often visited travel destinations, especially during the NFL star's off-season. For instance, they flew to Kenya to explore jungle safari and the local lifestyle.
In her March 4, 2022, Instagram post, she posted a series of the couple's pictures from their trip to the African country. 
Similarly, they were also spotted together hitting the gym, parenting their pets, and going out for food.
Did Myles Garett marry his girlfriend, Serra Tumay?
It is unknown if the pair are still in a dating relationship or are married or separated.
The pair have decided to go silent about their current relationship status and bondings. Hence, it will be safe to refer to Tumay as his girlfriend, as the pair have not broken up officially. 
However, Heavy reported that he hadn't got a girlfriend in the eyes of the public. The magazine also presented a love poem from Garett, which seems to indicate a broken relationship. The poetry read as, 
You were always worth it

And deserve all the credit

For knowing we were headed

Looked a lot like the exit

Unsuccessful, but never regretted

The sweetest love, I'll never forget it
Still, it will be just speculation to assume anything unless either of the two speaks up about their relationship. Till now, there also have been no reports of either of the two dating someone new, let alone marital news. And as per public records, the pair have never been married before. 
Previously, he dated a woman named Gabby while at college playing for Texas A&M. 
Myles Garrett's gf is Aston Villa's Head Of Nutrition 
In September 2022, English Premier League's top-tier club Aston villa appointed Tumay as the "Head of Nutrition." The role requires her to monitor, analyze and optimize the nutrition and hydration levels of the players for their optimum performance  
Before joining the club, she was functioning as a performance dietitian at Tohum Nutrition LCC, which she founded in 2021. Before that, she worked as an Olympic sports performance dietitian for UCLA Athletics from January 2020 to December 2020.
Tumay is a former soccer player
Very little is known about Garrett's girlfriend, Tumay's growing up and roots. She hails from Delray Beach, Florida. There, she attended Saint Andrew's High School. She later studied arts and science with a major in sociology at New York University — graduated in 2013. Her educational profile also includes a Master of Science degree in nutrition and exercise physiology from Teachers College, Columbia University. 
During her time at NYU in the early 2010s, she played soccer and became a prominent member of her soccer team with awards such as NYU Women's Soccer MVP Award ( 2010, 2011 & 2012) and First Team All UAA Conference (2011 & 2012).
"I grew up playing soccer in South Florida. It is all I knew at the time — school, soccer & sleep," her website's bio says about her.

Myles Garrett with his girlfriend, Serra Tumay. (Photo: Instagram)
In September 2012, she became the New York University women's soccer program's all-time leading scorer. She achieved the feat after a pair of assists while leading the Violets [her team] to a 3-1 victory over Farmingdale State College at Gaelic Park in Riverdale.
Tumay was also honored with the Female Scholar-Athlete of the Year by her university in 2011.
Founding of the nutrition company
While her youth was occupied with sporting and academic activities, she became an entrepreneur and "performance dietitian" in recent years. She is also presently running a nutrition company named Tohum Nutrition LLC.
The company claims they are a "nutrition counseling and consulting company that helps individuals and small businesses excel through food, nutrition, and wellness strategies."
She also explained how she got into fitness and nutrition. She shared that she was first introduced to nutrition education when she played for the Turkish women's national soccer team at age 16.
Following that, she was guided by a staffed sports dietitian, after which she saw the benefits in her performance and overall health and well-being.
She, therefore, even went on to obtain a Master of Science degree in nutrition and exercise physiology from Teachers College Columbia University in New York City.
With her expertise, she now makes athletes and normal people aware of the importance of proper nutrition.