'Secret's Out' — Mykenna Dorn Goes Instagram Official with Her Boyfriend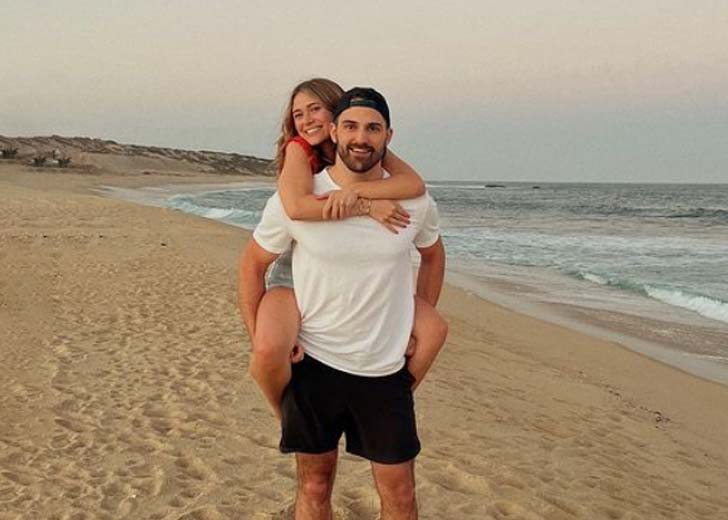 Mykenna Dorn couldn't keep the secret any longer! 
After teasing her relationship with a mystery boyfriend for about a year, The Bachelor star has finally revealed who the lucky guy is. Her long-awaited revelation came on Instagram, and it was a fitting post for the occasion. 
She revealed his name, Lynden Enger, and admitted to finally letting the secret out in the open.
Mykenna Dorn Reveals Her Boyfriend Lynden Enger
The Bachelor Nation star took to Instagram on May 5, 2022, to post a couple of pictures revealing who her boyfriend was. The couple was all smiles in the photos.
In the snaps, the pair were dressed for the beach. She was wearing a cute red top and light-colored hot pants while Enger wore a white T-shirt with black shorts. He also had his cap on backward.

Mykenna Dorn with her boyfriend, Lynden Enger. (Photo: Instagram)
In the first one of the two pictures she uploaded, they stood beside each other in front of the waves, smiling at the camera. In the second one, he was carrying her on his back, with the grins ever-present.
"secret's out," Dorn wrote in the caption, followed by a red heart emoji and #hardlaunch.
Many of Dorn's Bachelor Nation co-stars shared their happiness and excitement at her reveal in the comment section of the post.
"What a cute couple," wrote Anna Redman, while Kelly Flanagan chimed in with, "love is in the air! love you guys."
"I'm looovvvviiiiiing everything about this, you two hotties," Emily Cave wrote in her comment, whereas Chris J. Bukowski just posted three fire emojis.
Even though this was the first time everyone got to see his face and name, Dorn had been flaunting him on her Instagram for a while now.
The last time she showed him off was on February 5, 2021, when she made a birthday post.
Mykenna Dorn's Dating Life and 'Bachelor in Paradise' Rumors
Dorn's dating life before her time on Bachelor Nation is yet to be revealed. However, after her start on season 24 of The Bachelor, she has had quite a run on reality TV.
After her The Bachelor season, from which she was eliminated early, she appeared on Bachelor in Paradise season seven. There were rumors she could start dating Ed Waisbrot.
According to the spoilers from Reality Steve, Dorn was touted to end up with Waisbrot, despite him dating Natasha Parker on the show. But, it was also said that all three of them would be single when the show ended.
Looking at the timeline, Dorn might not have gotten into a relationship with anyone on the show, as she had been hiding her relationship with Enger all this time.