Meet Player 067 from MrBeast's Squid Game — Camilla Araujo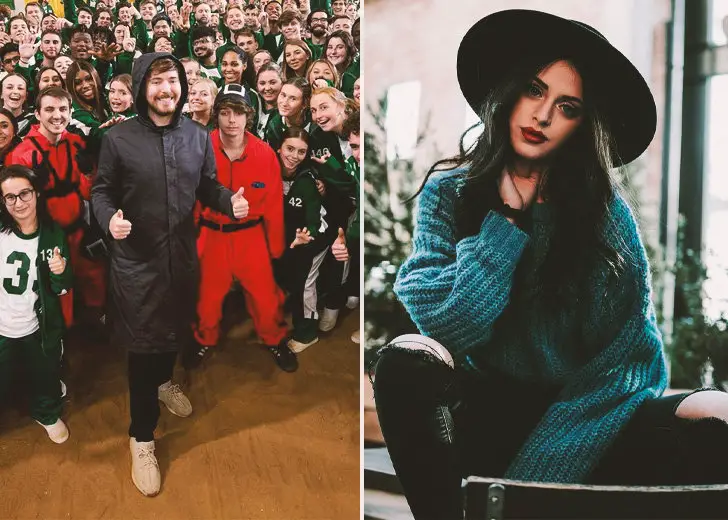 Popular YouTuber MrBeast recently dropped the video of his version of the popular Netflix Korean Drama series, Squid Game. 
The video uploaded on YouTube on November 25, 2021, has quickly amassed 28,566,733 views on YouTube as of this writing. 
The popularity of the video meant it broke many records within minutes of its upload.
Inside MrBeast's 'Squid Game'
In MrBeast's near to accurate version, participants showed great enthusiasm in playing the games, where the contest winner would be rewarded with $456,000.
The YouTuber chose to stay close to the original series as he also admitted 456 contestants replicating the number of the players as in the popular Korean show.
In MrBeast's version, there are no deaths and violence. Instead, the adopted competition contained games like Red Light Green Light, Marbles, Tug of War, and Dalgona with a different touch.
It must also be said that an incredible amount of work was put into place to recreate the hit show's look and feel.
It seems his crew did not leave any stone unturned when it comes to the detailing of the set and the props.
The game was immensely fun-filled with its inclusion of games similar to the original series. 
At the same time, the brutality depicted in the series was replaced with subtle fun and a touch of technology.
For instance, a special device strapped to the contestant's body during the Red Light Green Light game. The sophisticated piece of technology popped whenever the players broke the game's rule, ultimately eliminating them from the competitive game.
Who Is Player 067?
Like every competition ends with a winner, this version of the Squid Game was won by player 079, who beat player 033.
However, a participant called player 067, who was later revealed to be Camilla Araujo stole the show with her charm. 
In the Netflix show, Kang Sae-byeok, otherwise known as player 067, was portrayed by Korean actress HoYeon Jung.
Araujo's popularity has sky-rocketed after the now-viral video was made available on YouTube. She is now popularly referred to as Player 067 and is currently trending.
Many online users have taken to various social media platforms and repeatedly asked for her whereabouts.
"Just watched mrbeast squid game and 067 <3," one fan wrote on their Twitter.
While another wrote how MrBeast "knew what he was doing when he gave her '067'."
Some fans have publicly declared themselves to be a stan of Araujo.
Additionally, Araujo is an Instagram model who saw a significant boom in her followers' count after earning worldwide recognition.
The talked about personality is represented by a model management company called Neil Jou Agency.
Her Instagram account goes by the handle @camilla_ara, which reportedly had around 12,000 followers.
She now has 19,000 followers on her said social media account.
Araujo is also active on TikTok, where she goes by the username of @iits1camilla. She is currently being followed by her 716,000 fans.