Who is Young Sheldon's Montana Jordan's Daughter and What is her age?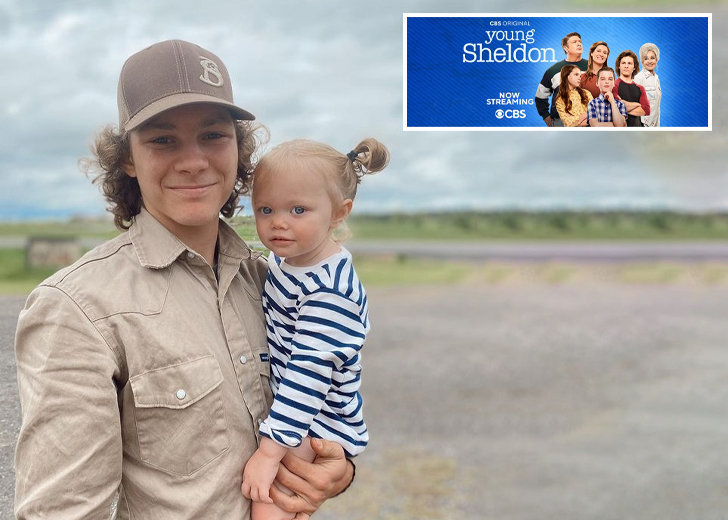 Montana Jordan, renowned for his role as Georgie Cooper in the coming-of-age sitcom Young Sheldon, is active on his social media handles, especially Instagram.
A quick scroll through his Instagram feed shows that he usually shares pictures with a little girl. However, he usually doesn't mention his relationship with her.
"Your daughter???" one follower commented in one of his posts, inquiring if the cute little girl was his daughter.
Fans speculate the little girl as Montana Jordan's daughter
Not just one follower, but many others seem equally interested to know whether he is a father to the little girl — or his real relationship with her.
For instance, on July 19, 2020,  Young Sheldon actor Jordan Instagrammed a snap with the little one, writing, "Love this little girl."
In the snap, he gently carried the baby in his hands and leaned his head toward her forehead. Meanwhile, the baby wore a grey t-shirt and made a smirking face while playing with her fingers.
"She's adorable! She is so Blessed to have you to love her the way you do, God Bless You Both Always!" someone complimented the pair.

Montana Jordan and with the little girl, who's rumored as his daughter. (Photo: Instagram)
A confused follower asked, "Is That Your child?" while another asked, "Is this girl your sister?"
Jordan last posted a picture with her in April this year, describing her as "My girl." The post also had similarly clueless fans willing to know about their relationship.
It Turns Out — the little one is Montana Jordan's niece
In between the confused fans, a few of them were evidently aware of their relationship. And it turns out that the little one is Jordan's niece.
"It's his niece yall," one fan commented.
Another wrote, "Aww she's so sweet! I'm the same way with my nephew lol."
"Jordan, this is my favorite picture of you, you can just see how loved your niece is," someone added.
The little one's name is Madilyn June, also known as Madi June. She is the daughter of Jordan's elder sister, Jaden Jordan, and her husband.
In case you don't know, the Young Sheldon star has two sisters: Jaden and Katelli Jordan. They were born to their parents, Kelli Pieratt Smith and Tony Jordan.
But does Montana Jordan have a daughter? Jordan doesn't have a daughter of his own and hasn't been married to a wife yet. 
What is Montana Jordan's age?
Montana Jordan is only 19 years old at present. He was born on 8 March 2003 in Longview, Texas, United States. He is thankful to his parents for supporting him in his career ambition. 
What is Montana Jordan's speculated daughter Madi June's age?
Jordan's niece Madi June was born on September 25, 2018. She is 4 years old as of writing. 
Is Montana Jordan dating a girlfriend?
On November 2022, Jordan posted two cozy pictures of him with an unidentified woman, posing in his arms. The talented actor wrote, "My Love" in the captions. 
After he made the posts, many in the comments guessed that the unidentified woman was his girlfriend. Some female fans also showcased their jealousy over the actor's post. One fan wrote, "that should be me.. holdin ur hannnddd.. that should be me… this is sooo sadddddd." Another penned, "There goes my chances of getting with you smh."
Jordan's on-screen sister from Young Sheldon Raegan Revord even commented, "Instagram Official." 
Is Montana Jordan related to Raegan Revord?
Although Jordan and Revord aren't biologically related, the two co-actor are really close in real life. In fact, Jordan treats her like a real-life sister and the feeling is mutual for Revord, who doesn't have a biological sibling in real life. 
Montana Jordan gained Fame with 'Young Sheldon'
Born in Longview, Texas, Jordan started his acting career very early. In terms of his professional credits, he has had 3 portrayals in television and movie shows combined, including Young Sheldon, The Legacy of a Whitetail Dear Hunter, and The Big Bang Theory (2018). 
The Longview native was a little over thirteen years when he was cast in his first role in 2015's film The Legacy of a Whitetail Deer Hunter. He was selected from 10,000 applicants for the role of Jaden in the Jody Hill-directed film.
Previously in 2017, he bagged his most famous character in The Big Bang Theory spin-off Young Sheldon, as he played the role of Sheldon Cooper's older brother Georgie in the sitcom.
For his performance, he was also nominated for Best Performance in a TV Series — Supporting Teen Actor at the 39th Young Artist Awards. He came second to Dylan Duff of Teens 101 in winning the award.