Moneybagg Yo's Girlfriend Ari Fletcher on Her Relationship, Dream Proposal and Sexuality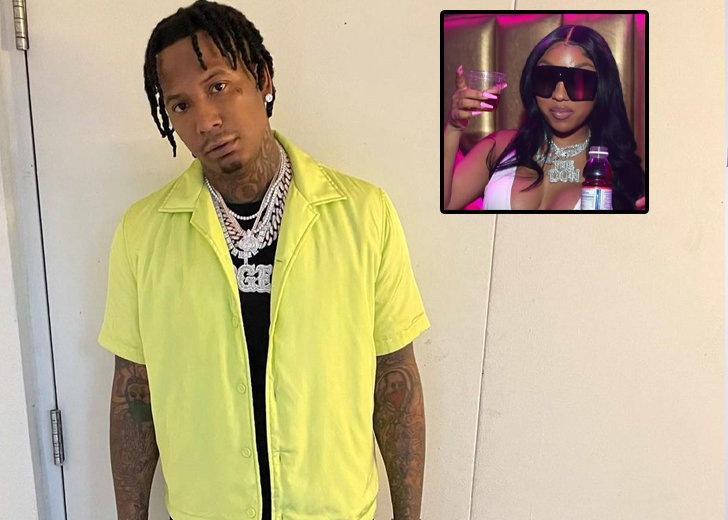 Ari Fletcher, the girlfriend of Moneybagg Yo, recently sat down with the ladies of Lip Service and spilled beans about her love, life, her sexuality, and her relationship with her current partner.
She has been in a relationship with rapper Moneybagg Yo, and the couple has been in love with each other and spoil each other with expensive gifts.
In a recent podcast, Moneybagg Yo's girlfriend casually spoke about her gender preferences her relationship with her beau.
Moneybagg Yo: His Girlfriend's Sexuality and Dream Proposal 
The social media influencer has been dating the rapper Moneybagg Yo for quite some time.
He has been with her and supported her every time. She realized he was the one for her when he took a leave from work and helped her during one of her lawsuits.
However, she revealed how she wanted to level up their relationship in the podcast. She added she strongly considered adding "a third person" into their love life.
She said, "I wanna be the girlfriend, and she's my girlfriend, and then she's just fun for him. I don't want for him to like her for real unless it's sexually."
This statement blew the netizen's minds.


Moneybagg Yo is spending time with his girlfriend, Ari Fletcher. (Source: Moneybagg Yo's Instagram)
Fletcher discussed her sexuality and admitted that she is bisexual. And, she made it clear that before she dated men, she was dating girls.
She openly expressed that she had been in a long-term relationship with a woman before.
She was dating a woman for three years during her younger days until things turned out to be "toxic."
The influencer is currently inactive on Instagram. She took a hiatus from the social platform as it started to drain her, and she wanted a break from all the "drama and negativity."

Ari Fletcher, Moneybagg Yo's girlfriend. (Source: Twitter)
Fletcher recently faced backlash on social media for responding to the people who were offended by her comments on the Don't Call Me White Girl podcast.
She made some cringe-worthy comments that made her lose out on her Savage X Fenty deal.
But, her rapper beau, Moneybagg Yo, supported defend her and called out on her trolls on Twitter. He said she was beautiful inside and out.
He added that the haters were not worth the attention, and they were not even half good as her.
In the podcast, Fletcher said she was anticipating a unique proposal. She mentioned she didn't want to be proposed on her birthday or during holidays because she wanted it to be special and a day to remember.
During the conversation, Moneybagg Yo's partner spilled that she wanted a white gold bezel ring with diamonds and a massive rock on top of it.  
She even said she wanted her boyfriend to make a public proposal so that people could witness her happiness, and Fletcher pictured it happening in Paris.
Moneybagg Yo Got a Lifetime of Income
On January 19, 2022, the podcast revealed some juicy gossip about Fletcher and her rapper boyfriend. 
Fletcher is not new to media controversies and dramas. She recently got involved in a virtual debate with people who blamed her for gifting her boyfriend 28.8 acres of land in his hometown.
She had shared a picture of her boyfriend on his thirtieth birthday. In her caption, she mentioned she gave him a lifetime of income, Generational wealth!
She even asked her fans in the caption, "What do you buy someone that has it all? The gift that keeps on giving. 
But this action of Fletcher generated a heated argument all over the internet. Even the hosts of The Real thought Fletcher went over the top, and she was "acting married."
One of the hosts, Garcelle Beauvais, said one should not act married when one is not.
It was a big gift, and if someone gave her that as a gift, she would feel obligated to stay with them.
Another host, Loni Love, said she should have thought about gifting such gifts to her family first and not her boyfriend.
Fletcher responded to the shade thrown by the hosts and tweeted that nobody knows half of the thing MoneyBagg Yo does for her mentally or financially.
She said he loved her son made her feel safe and loved.
She even told them to focus on getting their land and husband. But, the rapper also chimed in and added the hosts to mind their own business and said that "love is love."