Molly Yeh Is Pregnant with Her Second Baby — Talks Cravings and Motherhood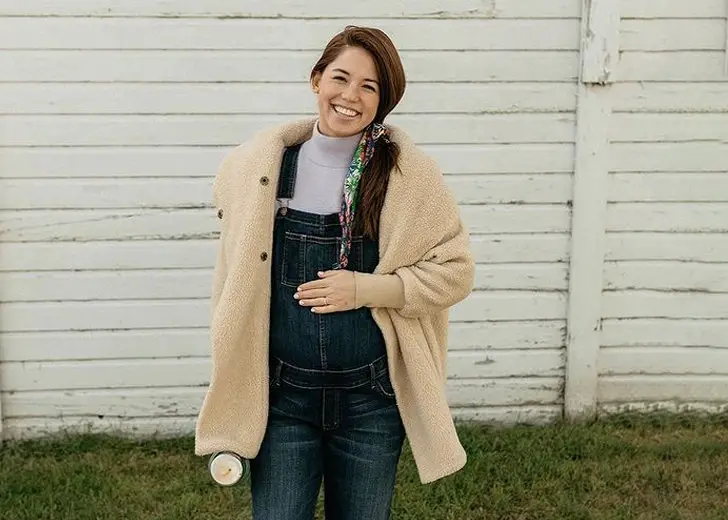 The bun is in the oven! Molly Yeh took to Instagram to announce she was expecting her second child with her husband, Nick Hagen, on September 17, 2021. 
The professional chef uploaded a cross-section picture of a sweet braided bread, known as babka. Below the bread, she flaunted her baby bump.
In the caption, Yeh mentioned she was initially going to post a sonogram picture. But the "babka cross section looked just as cool and is probably just as accurate."
Further, she declared she and her partner were expecting their second child.
She revealed their child was due in February 2022 and disclosed she was debuting her baby bump on the season 9 premiere of her show Girl Meets Farm. 
Cravings Let Molly Know She Was Pregnant
It is usual for women to have food cravings during pregnancy. While the foods may differ for every woman, it was grilled shrimp for the cookbook author. 
In an interview with People in September 2021, Yeh shared she had the strongest craving for the shrimp one morning. The desire made her realize she was pregnant. 
And after the hunger for shrimp subsided, the famed baker could barely eat anything that wasn't carbs and cheese during her first trimester. 
Yeh also reported that there weren't enough hard-boiled eggs and chicken caesar salad wraps to keep up with her appetite. 
Despite that, she shared that being pregnant and filming the ninth season for her show was "awesome." In her own words, her first-trimester nausea had waned, and everything tasted better. 
Also, she and her husband are admittedly "so excited" about adding a new little bean to their family. 
Molly Yeh Has a Daughter 
Yeh and her husband already have a 2-year-old daughter, Bernadette Rosemary Yeh Hagen, affectionately called Bernie.
In the aforementioned interview with People, the television host shared her daughter was already training to be a big sister.
Bernie was "doing great" with her Cabbage Patch doll and already suggesting names for the new baby. She wanted her sibling to be also named Bernie.  
"We're still working on names," Yeh noted during the sit-down. 
Yeh and her husband welcomed their first child on March 30, 2019. "She has a full head of hair and loves to stick her tongue out," Yeh had told People, right after welcoming the baby girl.
Months after, she talked to USA Today about her newfound motherhood. She shared that her cooking and eating style had changed since giving birth. 
"Everything moves a little slower now. I'll wear her in my sling while I'm in the kitchen," Yeh recounted. She added she didn't like to make foods that required a knife or needed her to stand close to the stove. 
The 32-year-old made more no-bake things and opted for less cooking, semi-homemade things. 
She would try finding a middle ground where she could have tasty food that was healthy for her and allowed her to spend time with her kid.