Is Nina Dobrev Really Pregnant? A Look at Her Pregnancy Rumors on the Internet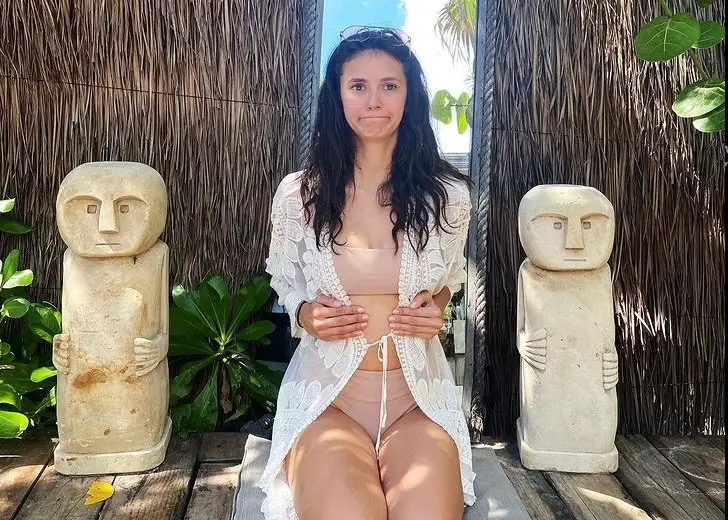 All eyes on Nina Dobrev! 
The Vampire Diaries actress recently appeared at the Versace show at Paris Fashion Week in an elegant mini dress.
While that made plenty of headlines in the popular press, there was something else that caught our attention—something that led the internet to believe that she might be pregnant. 
Nina Dobrev Wowed at the Paris Fashion Week
Dobrev looked stunning in the red & black mini dress she wore at the Paris Fashion Week. 
The four pairs of buttons stretching from her collar to her bust made for a hint of character, while the red floral contrast over the black fabric spoke of nothing short of perfection. 
The sides of the elegant dress swapped the blacks for whites and ended up making up another palette for her skirt.
She accessorized her look with a chic black clutch with golden accents that matched perfectly with her heels. 
Is Nina Dobrev Pregnant?
With the photographs being taken from so many angles, there was something else of note that caught the internet's eye. It was subtle, but it was there. 
Dobrev has a baby bump!
As soon as the photos from the Versace event made it onto the internet, speculations suggesting that Dobrev might be pregnant started taking shape. 
Who Could be the Baby Daddy?
Well, fans might have to keep a lookout for Dobrev's next public outing to know for sure if she is pregnant, but it is reasonably easy to guess who the dad might be. 
As per reports from Us Weekly, Dobrev has been dating professional snowboarder Shaun White for almost two years as of this writing. 
The dating rumors began circulating in February 2020 when fans noticed the two had shared similar photos from their trip to South Africa. 
A month went by, and the two were spotted together for the first time. Dobrev and her boyfriend were seen out and about, enjoying a bike ride in Malibu. 
Nina Dobrev & Shaun White: Relationship Timeline
By April 2020, it was almost certain that the two were dating. A source with the outlet came forth, claiming that Dobrev and White were enjoying their time together and getting to know each other better. 
"Nina really likes Shaun, and they both laugh a lot together," the source confirmed. 
Dobrev made their relationship Instagram official in May 2020 via an Instagram post.
The post featured a snap of herself holding a pair of scissors while the athlete jokingly looked afraid.
The second part of this story came about on the pro athlete's Instagram, where he shared a video of Dobrev trimming his locks.
The picture came with a caption that read: "My hairstylist said he wouldn't, so she did. #QuarantineCuts."
The two were living together during the COVID-19 pandemic.
Another source with the same outlet confirmed at the time: "[Dobrev and White] are super compatible and both free-spirited people. They're very comfortable around each other and both supportive of one another in their fields."
The adorable couple was later seen cozying up on a beach when they took a trip to Tulum, Mexico, back in August 2020. 
Hence, it is fair to assume that White is the one who got Dobrev pregnant.