Miranda Sings Reaches Out to Harry Styles for a Collab — Harry, You Listening?
Miranda Sings made a video asking for Harry Styles to collab with her.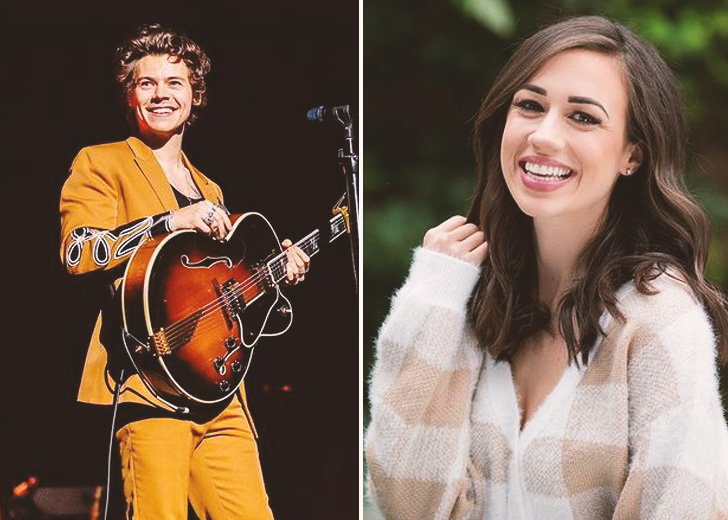 Miranda Sings, the fictional online persona of Colleen Ballinger, reached out to Harry Styles for a collaboration. The popular YouTuber made a tweet on September 8, telling the singer to call him. She also made a video on her YouTube channel addressing the situation.
The tweet came about after 'Miranda Sings' began trending on Twitter when people pointed out that Styles' outfit on his eagerly awaited 'Love On Tour' matched hers perfectly. Styles rocked a red trouser, suspenders and a blue striped shirt, the same outfit that Sings has donned for more than a decade now.
Miranda Sings Reaches Out To Harry Styles
In the aforementioned YouTube video, Sings explained Styles was taking her style and gave two reasons for it in her signature comedic fashion — either he wanted to tell her he was her twin or to get her attention to marry her.
So it's one of two things, he is either my twin or he's trying to get my attention to marry me. Those are the only options here. So Harry I see you. Harry I want you, unless you're my sibling cause that's disgusting. I just want you to make videos with me so I can be more famous and make money.
The statement about the twin has a long history as Sings has been teasing about her possible twin for a long time on her channel. Now, with Styles matching her style, Sings said it was likely that Styles was her twin and was trying to get that message across to her.
As for Sings' words about Styles trying to get her attention and marry her, it falls in line with the persona's character of being an untalented woman who believes she's destined for fame.
Miranda Sings Pokes Fun At Famous Twins
After pointing out that Styles could be her long-lost twin, she made jokes about how a collaboration between her and the former One Direction member could turn out great.
I was always excited to meet my twin cause I was thinking, 'We can make videos together. We can do collabs and I can make a lot more money. There's a lot of famous twins in the world that are making a lot of money. There's famous twin YouTubers… and now, think of me and Harry Styles together.
Colleen Ballinger And Miranda Sings
Ballinger, the person behind Sings, is a trained musical theater performer. She initially rose to fame in 2008 with the comical character. After she began making videos as Sings, Ballinger soon amassed millions of followers and made her way into mainstream media.
Sings has appeared on late-night talk shows, gotten her own Netflix series titled Haters Back Off, published multiple books including My Diarrhe and Self-Helf. Aside from making videos as her persona, Ballinger also makes vlogs on her second channel, Colleen Vlogs, where she has over 3.33 million subscribers.