Who Is Minnie Driver's Partner? A Peek into Her Dating History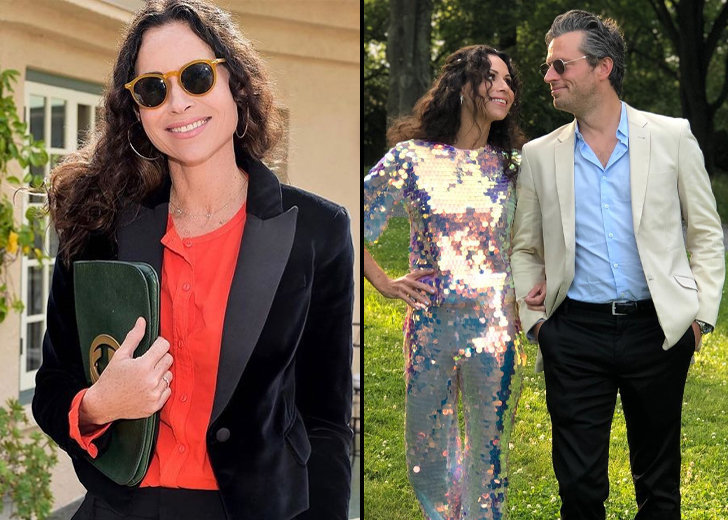 Minnie Driver has been in a relationship with her partner Addison O'Dea since 2019.
Their relationship was made official after attending the Amazon Emmy Awards afterparty together at Chateau Marmont Los Angeles in September.
However, earlier in May of the said year, Driver made headlines after she was pictured kissing O'Dea following her split from her former boyfriend, Neville Wakefield.
Minnie Driver's Relationship with Partner
During their outing at the Emmys, Driver opted for a one-shoulder gray leather dress while O'Dea fancied a black suit and bowtie.
In one of the photos shared by the actress on her official Instagram account, she was seen resting her hand on O'Dea's lap while romantically seated at a table.
Likewise, in a separate photo, Driver and her partner were seen in each other's close company standing hand in hand.
Later in August 2020, the actress went on a vacation with her boyfriend in Malibu.
She was pictured enjoying a sun-soaked day at a Malibu beach lying on top of her love interest.
While on the beach, Driver donned a makeup-free look wearing a long-sleeved white top with matching shorts and a green baseball cap. Similarly, O'Dea chose to spend his day wearing blue shorts.
Later, she shared a glimpse of her funfilled day at the beach by posting a photo of herself in an ocean blue swimsuit with a matching diving mask to her official Twitter account.
Minnie Drivers' Relationship History
Over the past decades, actress Driver has been in several relationships involving different partners.
First, she was reported to be dating her Good Will Hunting co-star, Matt Damon, with whom she admittedly fell in love while shooting for the movie.
Their relationship seemingly ended after Damon denied having a girlfriend during his conversation with chat show host Oprah Winfrey.

Minnie Driver's partner, Addison O'Dea, lying in bed with her son Henry and their family dog. (Photo Credit: Instagram)
During her exclusive conversation with Telegraph in 2012, Driver confessed to being "completely in love" with Damon.
She described him as "cute and intelligent and altogether a really charming package," however, it was his commitment to work that impressed Driver the most.
"I was young and I fell for him — it's an occupational hazard," she said in her recollection.
According to Driver, the great success of their movie peaked a sudden interest in their fans who shipped them as a couple.
While she sensed a possible long-term relationship with Damon, her grim break up turned her beautiful world "into something dark."
She called her short-lived time with Damon "a beautiful experience," but expressed her regrets that they chose not to stay friends after their split.
Flash-forward to two decades, and they crossed their path one more time, thanks to an unexpected meeting at a beach.
Driver shared the information on September 1, 2021, during her appearance in one of the episodes of the Keep It podcast.
"I did see Matt Damon on the beach and I had not had a conversation with him, seriously, since we made the film," Driver told the podcast host.
According to her, she met Damon's wife Luciana Barroso and kids while having a "middle-aged" conversation with her former co-star.
Between meeting Damon for the first time to their reunion in 2020, the actress has reportedly dated stars like Josh Brolin, Dougray Scott, and Harrison Ford while sharing a son with her former partner Timothy J. Lea.