Mike Trout Says His Wife Has Always Been There for Him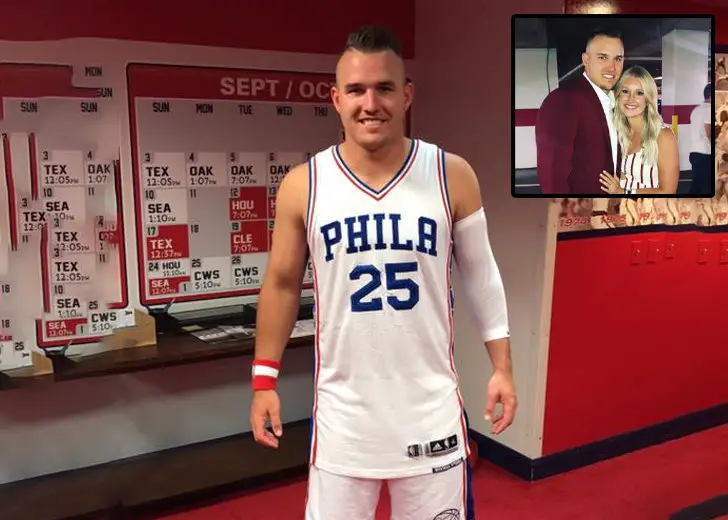 Mike Trout has been at the top of his game for years now. However, the things that usually affect successful athletes, like self-obsession and cockiness, have always eluded him.
The reason he is so grounded might lie in his family life. His wife and parents have always helped him maintain a level head.
Mike basically grew up alongside his wife, Jessica Tara Trout, and started a family after over a decade of togetherness.
Mike Trout's Married Life with Wife Jessica Tara Trout
Mike and Jessica ( whose maiden name is Jessica Cox) first met in high school. They were classmates in a Spanish class.
Mike already liked her, but they weren't sitting close to one another in the class. So, he came up with a plan to make that happen.
He thought of making trouble in class, hoping to get sent to the empty last seat, the seat right behind where Jessica was sitting.
And it worked. He got shifted, and the sparks flew between them right away. They started flirting immediately.
Their love of sports and the outdoors helped them bond, and they soon started dating.
The now husband and wife stayed together throughout their college days.
But, because Mike was so good at baseball, his then-girlfriend Jessica was hoping he wouldn't get signed by a team across the country.
To her dismay, he did. The New Jersey native got picked up by the Los Angeles Angels in 2011, after a few years in the lower leagues.
Even so, their relationship did not deteriorate. They maintained a great long-distance relationship until 2016 when they got engaged.
Mike's proposal to Jessica was something very special. On June 29, 2016, he popped the question to her with the help of an airplane.
"Will you marry me Jess?" read the writing in the sky. Nature was more than helpful in the MLB star's endeavor — there was no white in the sky except for the letters of his proposal the airplane left behind.
Then came their wedding in 2017. And while his engagement proposal was there for everyone to see in the sky, Mike and Jessica preferred a more private wedding.
They got married at a pastoral estate in Allentown, New Jersey, on September 9, 2017. They had been together for 11 years at the time of the nuptials.
It was a winter-themed wedding, with snow everywhere. They had a private first dance before sharing the day and their lives with everyone else.

Mike Trout with his wife Jessica Trout and son Beckham Aaron Trout. (Photo: Jessica Trout/Instagram)
Their family became a family of three in 2020 when they welcomed their first kid together. Their son, Beckham Aaron Trout, was born on July 30, 2020, at 5:10 pm.
Mike Trout's Wife Has Always Been There for Him
Mike and Jessica's relationship dates back to when there was no fame around him. She has been of great help to him in staying grounded.
Shortly after his wedding, in March 2018, he spoke to Cut4 about the nature of his relationship with his wife.
When asked about why he married young, Mike replied, saying, "You say we're getting married young — I was with her for 11 years."
"She's been along the whole journey so far," he added. Then he talked about her support.
"Ups, downs, she's always there for me, doesn't matter what the situation is," said Mike. "She's always trying to pick me up."
He was then questioned about how he remained so grounded in the face of all the fame and success. To this, too, he credited his spouse, as well as his parents.