Who Is MLB Star Adam Jones' Wife? Inside His Family Life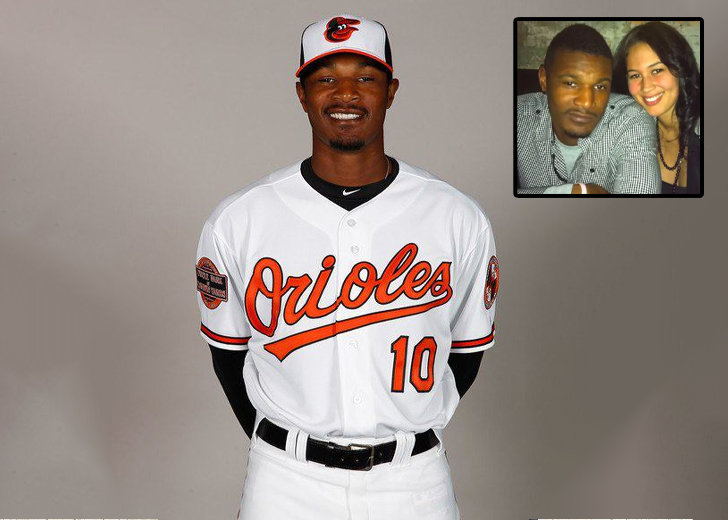 MLB star Adam Jones married his wife, Audie Fugett, on December 27, 2014. Since then, the pair has welcomed two kids together.
Jones has talked about his wife and their family on multiple occasions. He has also expressed his desire to give back to the community and raise his sons into individuals who will carry on that will.
For that purpose, Jones and Fugett have contributed a lot to charitable foundations to help with educating the young.
Fugett also showed her support for her husband when he spoke up about the abuse he and other players suffered from fans.
Who Is Adam Jones' Wife?
Throughout the years, quite a lot of information about Fugett has surfaced. For one, she has a law degree. She graduated from Georgia Washington University and then earned her J.D. at Fordham University.
As Jones never went to college, he previously joked about his wife having enough college experience for both of them.
However, Fugett's husband isn't the only person close to her who has found fame. Her father, Jean Fugett, is the former tight end for the Dallas Cowboys and Washington Redskins.

Adam Jones with wife Audie Fugett (Source: Instagram)
Jean played in the NFL for eight seasons. And even after retiring from his athletic career, he found success as a newspaper reporter, TV analyst, sports radio host, and lawyer.
Adam Jones and Audie Fugett's Wedding
Jones and Fugett had their wedding in late December 2014 in Scottsdale, Arizona.
There were many well-known personalities present for Jones' wedding, including the Baltimore Orioles manager Buck Showalter, first base coach Wayne Kirby, and many other players from the team.
Nick Markakis, who played alongside Jones for the past seven seasons but had moved away after signing a four-year deal with Atlanta Braves, was also in attendance.
For their first dance as man and wife, the couple danced to 'Me and Mrs. Jones' by Billy Paul.
They Have Two Kids
Several months before their wedding, Jones and his partner had welcomed their first child together, son Zaniyah Jones, in March 2014.
When talking to the Baltimore Suns in April 2015, he revealed Fugett had told him of her pregnancy right before his All-Star game in 2013.
In the same interview, he described his son as his legacy.
"Now here's an extension of me. Now here's my legacy," he said of his young son. "I can see my son every day and just see the smile on his face, and this is my legacy. This is where I leave my mark."
Jones further added that many people expected his son to play either baseball or football because of him and his father-in-law. However, he didn't care about what his son wanted to do and would be happy as long as Zaniyah did something he enjoyed.
The pair later welcomed their second son Axel in February 2016.
Both Jones and Fugett frequently post about their kids on their Instagram pages. Just recently, Jones uploaded several pictures of Axel wishing his son a happy 6th birthday.