Revisiting Time When Mike Myers' Wife Kelly Tisdale Shotgunned Beer with Margot Robbie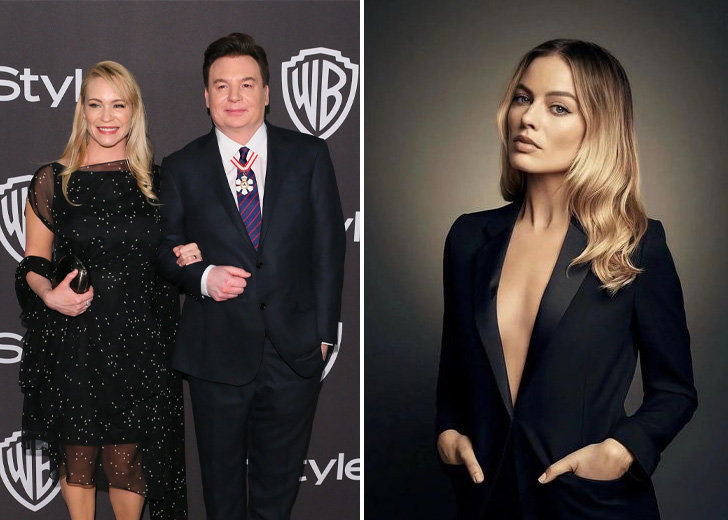 Mike Myers has always kept his married life wife, Kelly Tisdale, a relative secret. But now and then, he shares an amazing thing about her.
One of Tisdale's "qualities" is having a genetic predisposition to handling large amounts of alcohol. A Boston native with Irish and Italian heritage, she handles booze better than him.
She once even stuck up for all of America when Margot Robbie, an Australian, challenged her to shotgun beers in Budapest.
Mike Myers's Wife Gave Margot Robbie a Run for Her Money
During one of his appearances on The Tonight Show Starring Jimmy Fallon in April 2018, he was to promote Terminal, a movie he did with Robbie.
Shot in Budapest, the Australian actress was also the producer, and Myers confessed she was really fun to be around. She used to host parties for everyone in the movie.

Mike Myers with his wife, Kelly Tisdale, at the Hollywood Film Awards in 2014. (Photo: Twitter)
Myers was initially hesitant about going to one of her parties, but he went to one, and his wife and son, Spike, accompanied him. Robbie welcomed them even though they reached the event late.
Then the actress and Tisdale struck up a conversation about where she was from. After revealing she was from Boston, Robbie made a subtle dig at Americans' ability to handle alcohol.
"I think that Americans don't know how to drink," said Robbie, which was enough to set Tisdale off. She, a Bostonian with some Ireland and Italy in her, started egging Robbie on to a drinking challenge.
"I'm from Boston, dude. Don't mess with Boston," Myers recalled his wife saying.
And lo and behold, the two women were shotgunning beers.
Myers had never shotgunned before, but he stood there watching his wife drink.
But it wasn't any ordinary beer they were chugging. "This huge can of, like, Budapest beer, which is so strong," the actor recalled.
The two did over 20 drinks and were showing no signs of slowing down. Myers had two sips and immediately realized day-drinking wasn't something they should have been doing.
But Tisdale spat out her drink halfway through. Robbie was still going strong, saying, "Balls, I could do ten more."
Robbie out-drank Tisdale and impressed everyone present. Myers' wife still put up a good fight, though.
Mike Myers's Married Life with Kelly Tisdale
Myers has married twice in his life. His first marriage was with his creative partner, Robin Ruzan.
They first started dating in 1987 and tied the knot in 1993. But that 12-year marriage ended with a divorce in late 2005.
Myers and Ruzan had no kids, and he has never been the one to reveal too much about his personal life, either.
When asked about his split during a conversation with Parade in 2010, he said, "I'm out of the blame business and I'm into the dropping-resentments business. I'm into 'That was then, this is now."
The "now" he was talking about could have been his relationship with Tisdale, his second spouse. Their romance started in 2006, shortly after he and Ruzan split.
Their relationship became public that same year when they were spotted vacationing together in Hawaii.
However, the couple managed to keep their wedding a secret affair. They exchanged vows sometime in late 2010 in New York, but it took five months for the media to find out.
Myers and Tisdale now have three kids — son Spike, born in 2011, and daughters Sunday, born in 2014, and Paulina, born in 2015.