Mike Evans Relishing Family Life with Wife Despite Growing Up in a Broken Family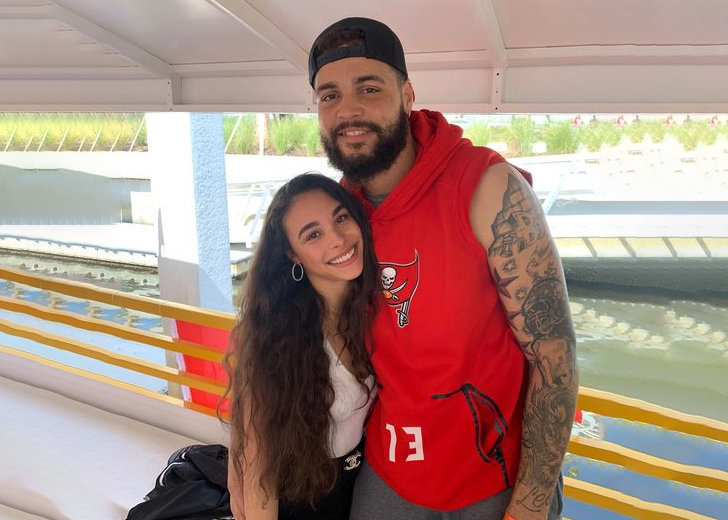 Mike Evans and his wife are pregnant!
The NFL legend's wife, Ashli Evans, broke the news of her fourth pregnancy with the most adorable family photo uploaded on her personal Instagram handle.
Mike and Ashli are already parents to a son and two beautiful daughters.
Mike Evans & His Wife Are Expecting
On November 26, 2021, the doting wife and soon-to-be mother of four uploaded a series of snaps onto her Instagram feed. 
The first snap in the series framed the Evans family, beaming bright smiles for the camera.
The eldest of the Evans children, Mackenzie, stood tall in front of her dad while the youngest, Amari, clung to his side.

Ashli Evans proudly flaunting baby bump (Source: Instagram)
The other daughter, Ariah, stood beside her mom.
Talking of the mom, Ashli was donning a long yellow dress that drew ample attention to her baby bump. She'd placed her right hand right below her baby bump, making it all the more prominent. 
The NFL pro's wife made the news official in the caption and shared that she felt blessed and "extra thankful" for her growing family. 
The next two pictures in the slideshow framed the eldest of the Evans siblings holding onto the two younger ones, their love for one another evident in their bright smiles. 
Mike Evans Opens Up About Childhood Years
Over the years, Mike has never shied away from flaunting the family he's built with his lovely wife.
That being said, things hadn't always been smooth sailing for the NFL receiver, at least not on the family front. 
As per a report published by New York Post, Mike was a 9-year-old boy when his uncle shot and murdered his father. 
The publication cited a video on his site where the now-celebrated player recalled his nightmare of a past.

Mike Evans posing with his family (Source: Instagram)
He had spent the bulk of his childhood in financial poverty, unaware that his father was abusive towards his mother. Understandably, he missed his dad throughout all of this. 
Mike Evans' Dad Inspired Him to Play Football
In the video log, Mike confessed he had been hurting for a long time. He used to cry for the longest of time. In fact, he admitted that he only stopped crying when he got to college. 
"I think it was my last time I cried about it," he recalled before he opened up about his dedication to his craft or rather the inception thereof. 
"I was thinking about my daddy one time when I wished that he could have [seen] me," he lamented, "But he loved sports, and he was the reason that I wanted to play sports in the get-go."
It's safe to say that Mike grew up to be a man that any father would have been proud of. He was even nominated for the Bucs' Walter Payton Man of the Year nominee for the second straight year.
For better or for worse, the memory of his dad molded Mike into the man that he is today. However, he hasn't always painted a saintly picture of his dad in the public eye. 
Today, he is the founder of the Mike Evans Family Foundation, an institution devoted to giving underprivileged kids a shot at a better life and helping women and families who are victims of domestic violence.