The Role Jalen Hurts' Parents Played on His Path to NFL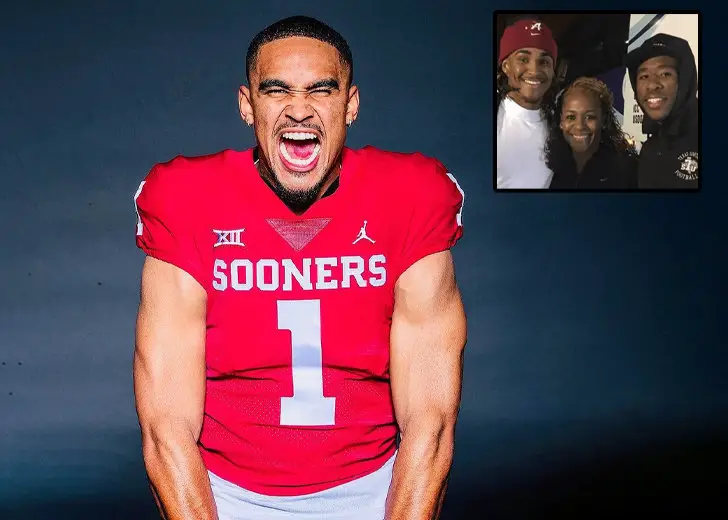 Jalen Hurts was selected by the Philadelphia Eagles in the second round of the 2020 NFL Draft. He became the starter for the Eagles near the end of his rookie season.
Even before joining the NFL, Hurts' rise had been meteoric. He was named the District 21-6A Overall MVP as a junior during his high school years at Channelview High School.
He later played college football for the Alabama Crimson Tide, starting in 2016. 
After three years playing for the team, Hurts announced via social media that he would transfer to the University of Oklahoma for his final year of eligibility.
There, he helped lead Oklahoma to a Big 12 Championship and a spot in the College Football Playoff.
Hurts' performance throughout the years has been impressive, and much of it can be attributed to his family's history with football.
Jalen Hurts' Parents' Role in His Football Career
The Eagles star has been playing football from a young age because of his parents. His father, Averion Hurts, is the head coach at Channelview High School. His dad's athleticism helped pave his path to the NFL.
When talking to CBS42, Hurt's brother, also named Averion, shared that both he and his brothers were passionate about the sport.
"We would always go to summer workouts with our dad instead of going to the daycares and, you know, we'd always follow along with the drills and stuff," he said.
Hurts would follow along with his brother and repeat after him. Their mom, Pamela Hurts, said he learned a lot and perfected his game based on a lot of things his brother had done.
When Hurts and Averion started playing later, their parents would each take one of their sons to their games.
"I can't express how grateful I am for the love my parents have for me and Jalen," said Averion when talking about how much their parents did to make sure both their sons made it to their games.
As his father was also his coach, Averion ensured his son had a place in Alabama before joining college.

Jalen Hurts sporting his team Philadelphia Eagles' jersey. (Source: Instagram)
When Hurts joined the Alabama Crimson Tide for one of his first practices with the team, Averion was in attendance to watch his son.
"That was the first time I got to watch him as a parent–not as a coach, but as a parent," he told the Alabama Crimson Tide website. 
"That [practice] was full-go. That was when I realized, just from sitting back and looking as an observer, that he's going to be alright there."
Jalen Hurts' Family
Aside from his father, mother, and brother, Hurts has a sister named Kynnedy.
Like his father, his mother is also involved in teaching. She is a special education teacher for grades 6-8 and special services department chair at LCPL Anthony Aguirre Junior High School.
Hurts' brother Averion has followed in their father's footsteps. He is currently a wide receiver coach and pass game coordinator at the Baytown Lee High School.