Who Is Mickey Rourke's Girlfriend Anastassija? Get To Know Her and Their Relationship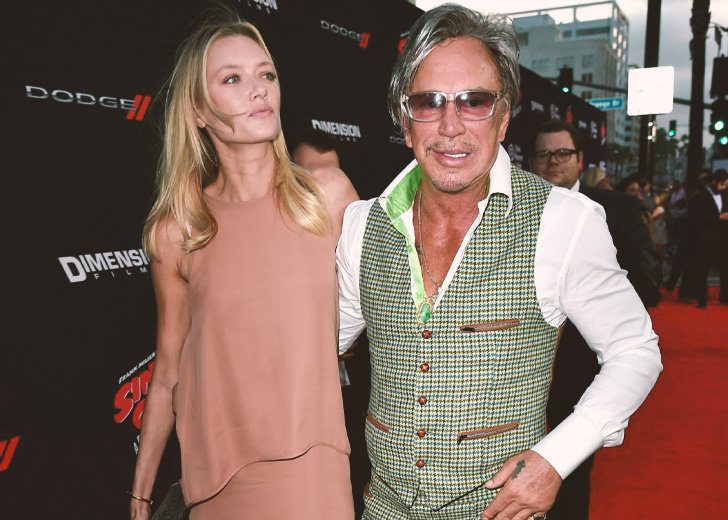 Mickey Rourke is in a relationship with model Anastassija Makarenko. The couple reportedly met during a photo shoot in 2009 and have been together since then.
Makarenko is currently thirty-five years of age, thirty-four years younger than her boyfriend, Rourke.
"She's a gift from heaven," Rourke said of his girlfriend during an interview with People in 2010.
In the chat, Rourke did not shy away from describing the woman he fell in love with. The actor also spoke highly of her parents, as he said, 
Obviously, she's a very beautiful woman. But she's got the biggest heart, she's got a great family, she's really close to her mother and father–they're great people.
When asked if he was already engaged with his girlfriend, Rourke said that he wouldn't trade Makarenko "for twenty academy awards."
Similarly, Makarenko revealed her boyfriend is too "loved" by her parents. She is reported to have spoken of her man profoundly, saying, 
He's the most beautiful man in the world, he's a sweetheart and the best boyfriend.
Who Is Mickey Rourke's Girlfriend Anastassija Makarenko?
In 2010, Makarenko recorded a video for Cotton USA and gave out details about herself in brief.
In the clip, she revealed herself to be Russian-born. But despite being born in Russia, Makarenko grew up in Germany after her family moved to the western European nation while she was "little."
At the time of the recording, the model said she was "living and working" in New York but would occasionally visit Germany.
According to Makarenko, she began her modeling career at sixteen after her mother sent her pictures to a modeling agency.
Presently, Makarenko is based in Los Angeles and has featured in multiple high-profile fashion shows, including the Armani Show in Milan.
Her modeling career has taken Makarenko to various parts of the world; however, the model has reportedly described Zurich, Switzerland, as one of the "prettiest" cities she has ever seen.
The Russian-born is also an aspiring Instagram model. She is being followed by 684000 Instagram users at present.
Makarenko does not shy away from sharing pictures of her family on Instagram, especially of her grandmother and parents.
However, she rarely shares photographs of herself with her boyfriend, Rourke.
She is also an animal lover and has a special affection for dogs. In the bio of her Instagram account, Rourke's girlfriend has called herself to be a "#doggylover."
Interestingly, she was gifted a Pomeranian named Tango, where their relationship was at an early stage. 
A Peek at Mickey Rourke's Past Relationship
The actor who amazed movie-goers with his impeccable acting in the critically acclaimed 2008 movie The Wrestler has a relationship history before his attachment with Makarenko.
Rourke has married twice, but unfortunately, the differences between himself and his past wives meant both of his marriages ended prematurely.
The actor was first married to his ex-wife and actress Debra Feuer on January 31, 1981. His relationship with Feuer was brought to an end after a divorce in 1989.
A few years after, Rourke was in love with San Francisco-born actress Carre Ortis. In 1992, the ex-couple got married to each other. However, their marriage ended six years later.
Reportedly, the actor still has a tattoo of his second wife's name inked on his body.