Mickey Rourke's History with Plastic Surgery Explained — What Happened to Him?
"I went to the wrong guy to put my face back together," Mickey Rourke says.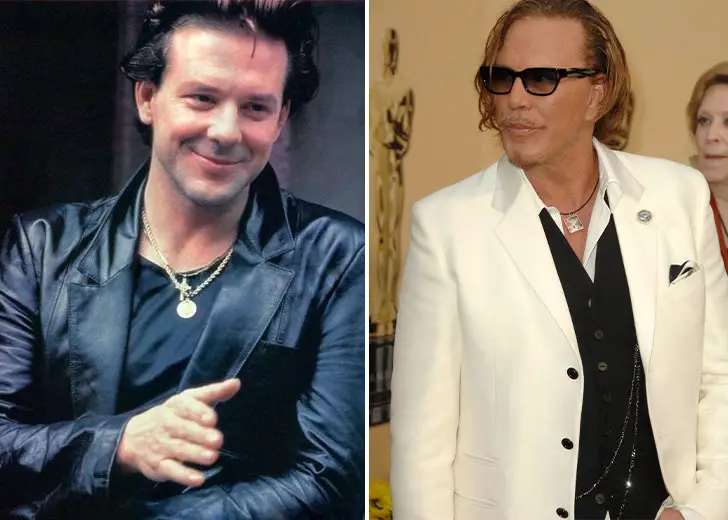 When Mickey Rourke started his Hollywood journey, he was referred to as one of the most good-looking and skilled actors. He subsequently lived up to everyone's expectations, playing the leading man in various drama, action, and thriller films.
His best performances as an actor came between the 1980s and 2000s, where he appeared in films and tv shows like Diner, Rumble Fish, Barfly, Harley Davidson and the Marlboro Man, and Sin City.
Meanwhile, Rourke was also passionate about fights and boxing, but that passion cost him a lot — the most precious one being his good looks.
Yes, that's true! The once Hollywood's most handsome star now lives with regrets of numerous surgeries and a craggy face that looks tanned and toned. Here is a full timeline of what happened to Mickey Rourke's face:
Boxing Took a Toll on His Face and Body
After establishing himself as an actor in the industry, Rourke decided to pursue his boxing career in 1991 because he felt that he had no respect for himself as an actor.
Following his instinct, he competed internationally in countries including Spain, Japan, and Germany and remained undefeated in eight fights, with six wins and two draws.
But the success also had its consequences, as he suffered several injuries, including a broken nose, toe, and ribs, a split tongue, and a compressed cheekbone. Speaking with The Daily Mail in 2009, he said,
I had my nose broken twice. I had five operations on my nose and one on a smashed cheekbone. I had to have cartilage taken from my ear to rebuild my nose and a couple of operations to scrape out the cartilage because the scar tissue wasn't healing properly. 
To get himself fixed, Rourke went to have plastic surgery. However, things didn't go right.
In the stated interview, he explained most of his surgeries were to mend the mess of his face while admitting that he went to the "wrong guy" to put his face back together.
Returned to Acting
The after-result of his injured body and swollen face kept him away from both boxing and acting for some years.
Rourke eventually made his acting comeback in 1994 when he appeared as Frank T. Wells in the film F.T.W. He continued to work in films like Fall Time, The Rainmaker, Buffalo '66, and Out in Fifty.
In the 2000s, he saw a comparatively successful phase, portraying roles like Marv in 2005's Sin City and Ivan Vanko/Whiplash in 2010's Iron Man 2.
Went under the Knife for His Movie Role
Years after his fearful experience with plastic surgery, Rourke once more went under the knife to play Gareth Thomas, a legendary Welsh rugby player, in a biopic movie.
According to Daily Mail, he had work done on his eyes circa 2012 and was looking to achieve a "lean" physique after losing nearly 30 pounds.
But the promised movie was never made with no official words about it from the actor as well as other concerned people.
What Is Rourke Doing Now?
On August 16, 2021, Daily Mail snapped the star having lunch with a friend and his dog, King Carlos, in Beverly Hills.
Rourke donned a casual-cool look, wearing fitted blue jeans and a charcoal black hoodie without a shirt.
He also wore a pair of brown cowboy boots decorated with metal tips and a yellow design along the sides and heels.
The report suggested that he has been residing in Beverly Hills presently, accompanied by his pets.