Inside Mick Foley's Bizarre Family Life with Wife and Children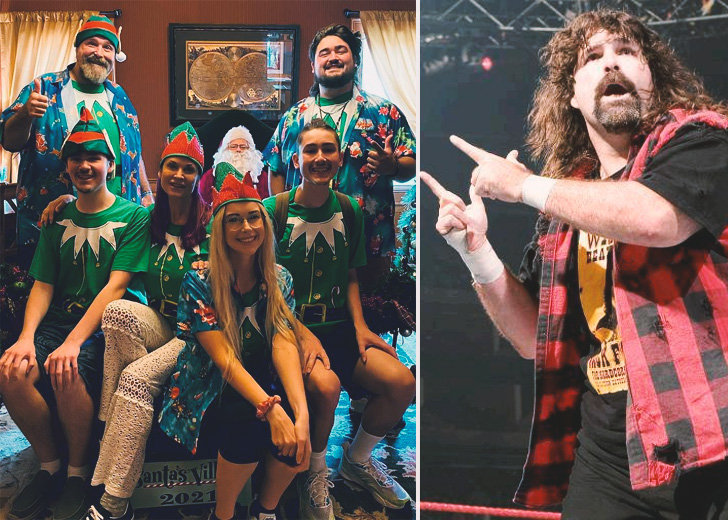 Mick Foley, born Michael Francis Foley, is a man of many talents. He is an actor, comedian, author, retired professional wrestler, and color commentator.
Currently signed to WWE, he has worked for many wrestling promotions, including the World Wrestling Federation, World Championship Wrestling, National Wrestling Alliance, and Extreme Championship Wrestling. He was also inducted into the WWE Hall of Fame class of 2013.
Mick is a happily married family man. He has been married to his longtime wife, Colette, with whom he shares four children.
The couple is parents to their three sons, Dewey Francis Foley, Michael Francis Foley, Hughie Francis Foley, and a daughter, Noelle Margaret Foley.
The 56-year-old former wrestler often shares pictures with his big family on special occasions, showing the Foley family is one cheerful bunch of people.
For instance, he posted his family picture featuring his wife and all four children on June 25, 2021. Everyone was dressed in Christmas-themed outfits in the snap, as Mick captioned his post, writing, "HAPPY HALFWAY TO CHRISTMAS!"
Mick Foley's Daughter Noelle Margaret Is a Model and Actress
Mick and his wife's only daughter Noelle was born on December 15, 1993. She has presently established herself as a model and reality TV star in the entertainment industry.
According to IMDb, her reality TV credit includes shows such as WWE Hall of Fame, Holy Foley!, Wrestling with Wregret, and WWE Kitchen SmackDown. She has also appeared in WWE Monday Night RAW and WWE Ring in the Holiday.
In an August 2016 episode of Holy Foley!, the father-daughter duo, Mick and Noelle, appeared together on screen and talked about their relationship.
"Growing up, I thought everyone is dad's look like...a maniac. But as I grew up, I learnt that only my dad was that way," Noelle said about her father during the episode.
She continued to share that she and her father always liked to hang out with each other despite people making comments about it. She explained they were open with one another and always considered each other to be "partners."
In the same episode, the two also admitted that their relationship was not always perfect, as they had conflicts on various topics over the years.
Mick Foley's Three Sons Are Also Keeping up with Their Careers
Mick's eldest son Dewey, born on February 20, 1992, is a television writer. Even though his specific television writing credits remain private, he was once reported to be part of the WWE setup.
According to Wrestling Observer Newsletter, he was hired as one of the "key creative forces" behind 205 Live.
On December 4, 2015, Mick also took to his Facebook to clarify that WWE hiring his son would not change his commentary on the product.
"My son was hired two months ago by WWE creative, and will begin working with the company in January," he wrote while adding, "My son will do his best to 'bring it' every day. He will be working long hours, in a thankless, difficult job, for entry level money—the way it should be."
The wrestler's other son Mickey operates a YouTube channel with his brother [Mick's youngest son] Hughie.