Michael Pittman Jr. and Wife Kianna Galli Found Each Other in High School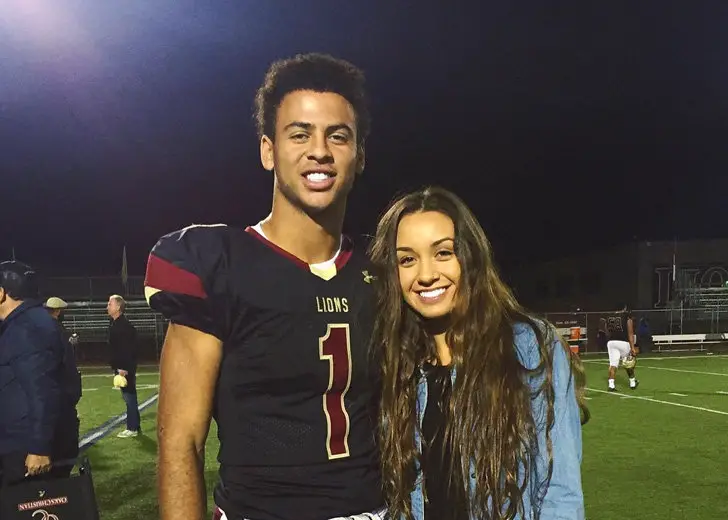 Michael Pittman Jr. has been with his wife, Kianna Galli Pittman, for over a decade.
The two first got together when they were 15 years old and studying in ninth grade. Since then, they have been together through thick and thin.
They grew up together and are succeeding in life, hand in hand.

Michael Pittman Jr. with his wife, Kianna Galli Pittman. (Source: Instagram)
Michael is an NFL star currently playing for the Indianapolis Colts of the National Football League (NFL).
He was selected for the team as the wide receiver in the 2020 NFL Draft in the second round.
Michael Pittman Jr. and His Wife's Marriage
Michael and Kianna first started dating in late April 2012.
He posted an Instagram picture on October 8, 2014, of him and his partner, announcing that they had been together for over a year.
Both of them were facing their back to the camera and walking away from it while holding their hands.
In the caption, the NFL player wrote, "Can't believe it's been a year and six months." He ended his message with a red heart.
Since then, the two have often uploaded pictures of one another, gushing about how much they love each other.
From their first vacation outside the country to getting married, the two have documented their entire life on social media. Similarly, they have a YouTube channel named Michael and Kianna.
They uploaded their first video on April 10, 2019, and since then, they have constantly uploaded content to their 423K subscribers.
They document "what it's like to be a NFL family" and Michael's journey as an NFL player.
Michael and Kianna got married in a courthouse on August 20, 2020. However, they did not follow the aspects of a traditional wedding, like rings and wedding dresses.
Instead, they walked into a courthouse and got registered as husband and wife. Despite getting married in court, Michael proposed to his partner on October 20, 2020.
He went down to one knee with a ring from Kay Jewelers, to which Kianna said "yes."
Michael Pittman Jr. and Kianna Pittman's Daughter
On January 7, 2021, Michael and his spouse announced via Twitter that they were expecting their first child together. They did a photoshoot on Indianapolis Colts' football field.
Michael showed off Kianna's ultrasound, whereas the latter held a white baby shoe. Kianna gave birth to their daughter, Mila Joan Pittman, on May 27, 2021.
The NFL player took to Instagram to reveal the first look of their baby. In addition, he penned a thank you note to his spouse in the caption for giving him "the greatest gift" of his life.
He wrote, "Thank you for allowing me to experience indescribable love. I promise to protect you with all my heart. God made you prefect. Mila Joan Pittman 5/27/21."
Since then, he often shares pictures of his daughter and wife on his Instagram, gushing about how thankful he is for the two.