Inside Michael Martin Murphey and Spouse Cynthia Tune's Family-Filled Wedding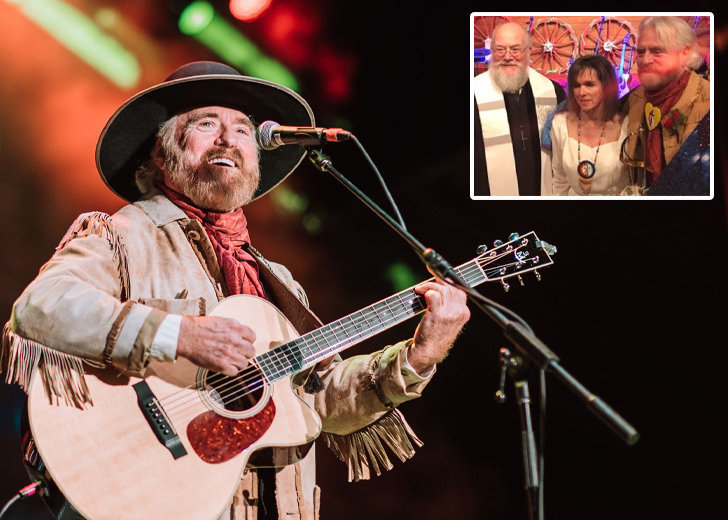 Michael Martin Murphey allegedly manages a settled — and private — marital life with his spouse Cynthia Tune.
He had a bumpy personal life with four failed marriages in the past.
His ex-wives are Diana Vero (1967-1974), Caroline Hogue (1973-1978), Mary Maciukas (1980-2001), and Karen McCoy (2003-2015).
Michael Martin Murphey and Spouse were Dance Partners
The cowboy singer and his now-wife, Tune, who was once his fan, were destined to meet — and tie the knot, too!
According to Abilene Reporter-News, the famed singer met Tune at Pioneer Hall in Anson, West Texas, circa 2015. 
He reportedly has been making a stop in Anson to play the Texas Cowboys' Christmas Ball for more than 25 years.
The local tabloid further stated that Murphey and Tune, by chance, danced the Paul Jones, an old-time mixer that randomly pairs males and females. Interestingly, the two paired up three times.
The singer later asked the former ball association secretary SuAnn Holtman about the attractive woman he got paired up with regularly.
After the investigation, he found out that Tune lived out of town but had been to the dance several times.
"SuAnn told me she just loves this event, and I asked her, 'Is she married?'" He told the publication. He eventually also got the phone number of his to-be spouse.
Michael Martin Murphey's Family-Filled Wedding
In December 2017, while Murphey was, once again, on the road to play the Texas Cowboys' Christmas Ball, the couple got married at the same place they first met. 
Murphey and Tune tied the knot in front of their friends and family. Those who organized the dance and others who happened to be in town for dance also marked their presence.
The wedding ceremony was led jointly by a Methodist minister, Dale Schultz, and native American medicine man, Moses Brings Plenty.

Michael Martin Murphey and his spouse Cynthia Tune pose with the Methodist minister after the wedding. (Photo: Greg Jaklewicz's Twitter)
The big day saw a ceremony that included chanted songs, prayers, and blessings for the couple.
In addition, Murphey wore a fringed buckskin coat and red bandanna, while his spouse was dressed in a simple, full-sleeved white dress and native American jewelry.
By the end of the ceremony, the couple and their friends and family dined in on barbecue, homemade fixins, and desserts.
Meanwhile, Murphey and his band played songs from his classic Cowboy Christmas recording, finishing the night with 'Goodnight, Ladies.'
"It was one of the best days of my life. I can't think of a better place to get married than at the Cowboys' Christmas Ball," the cowboy singer said, reflecting on his wedding a few days after his marriage.
Who Is Michael Martin Murphey's Spouse Cynthia Tune?
The report from the previous tabloid further revealed that Tune was, in part, a native American.
Additionally, she is a princess of the Apalachicola band of Creek Indians who came to southeast Texas in the 1830s at the request of President Andrew Jackson and the Texas Republic President Sam Houston.
Her ancestors reportedly served as scouts for Jackson during the Seminole Wars in Florida.
Their loyalty was later rewarded when other southern tribes were scattered under the Indian Removal Act of 1830.
"I married a lady who goes way back," Murphey said of his spouse's roots. "She has deep roots in Texas."
She is also said to have an Irish background.