Michael Evans Behling on How He Makes His Girlfriend Feel Loved
The heartthrob of 'All American' talks dating and relationship advice!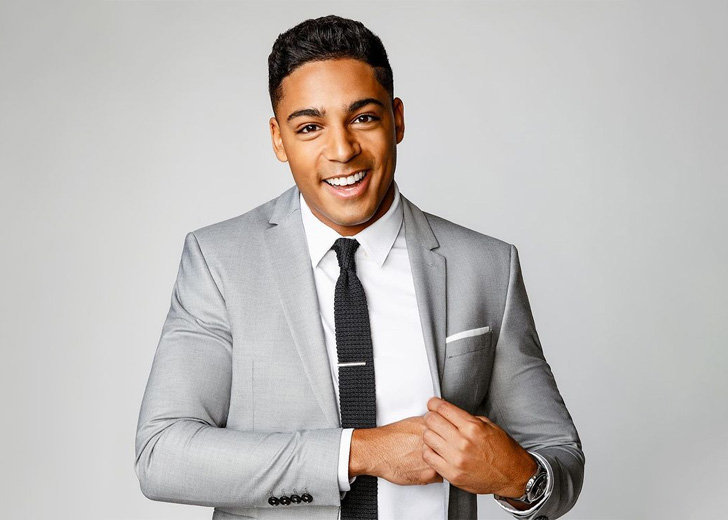 Michael Evans Behling is a television actor from Ohio known for his role as Beverly Hill High's star quarterback, Jordan Baker, in the American sports drama television series, All American.
He is half Nigerian and half German, which explains the exotic look that he is known for. The young actor is often known as the heartthrob of All American for his unique look and muscular physique.
However, he said he did not appreciate the comments as he expressed he wants to be known for his acting skills rather than his physical appearance.
Is Michael Evans Behling Gay?
Behling is often private about his relationship, leading to numerous rumors about him being gay. Naturally, fans were curious and posed the question, "Is Michael Evans Behling gay?"—the answer is no.
Although he is not usually the one to dish out his relationship status to the open press, he revealed in a 2019 interview with Xo Necole that he was no longer single and was dating a mystery woman.
During the Jan 16, 2021, episode of an interview with Young Hollywood, he talked about his private life with host Koch.
On The Qualities Michael Evans Behling Looks for in His Dream Girl
Behling revealed that the first things he notices in a woman are her eyes and teeth. "I'm a sucker for nice teeth," he said.
He expressed how he has a soft heart for women who are genuinely kind to others. "I love when a girl is nice for no reason. To everyone!" he added, "No underlying reason, she's just pure and genuine. I eat that up."
The actor expressed how he detests lying and unfaithfulness, and they are the number one deal-breaker for him in relationships.
Michael Evans Behling On His Ideal Date
Behling expressed how he always likes to just talk and grab food with his girlfriend for a date.
"Picking her up and snagging some dinner, whether it be simple or elegant, it doesn't matter," he described,
Afterward, heading to a spot, whether it's a dope view or a place to take a nice stroll, just to be able to talk. If we've been together for a while, then I'd like to do something that's important to my significant other.
On How Michael Evans Behling Makes His Special Woman Feel Loved
He shared how he loves being able to talk about his feelings and thoughts with her. In a situation with lots of shoots and hectic schedules, he'd love to talk about each other's day.
He appreciates openness and touches of humor and enjoys having goofy times with his special woman.
I let her know how I feel. When I'm with her, it's just her I focus on. I stay off my phone and give her my undivided attention.
On What Michael Evans Behling Learned From His Last Serious Relationship
Behling expressed that his last serious relationship had left a meaningful impact on him. He didn't talk about that the way it ended, but he now feels okay with it.
"Life goes on, and new doors can be opened from the ending of something serious," he said.
He expressed that learning to be satisfied on his own is the best thing he learned from his previous relationship.