Comedian Michael Blackson Proposed to His Longtime Girlfriend Rada
Michael Blackson popped the question during an appearance on 'The Breakfast Club.'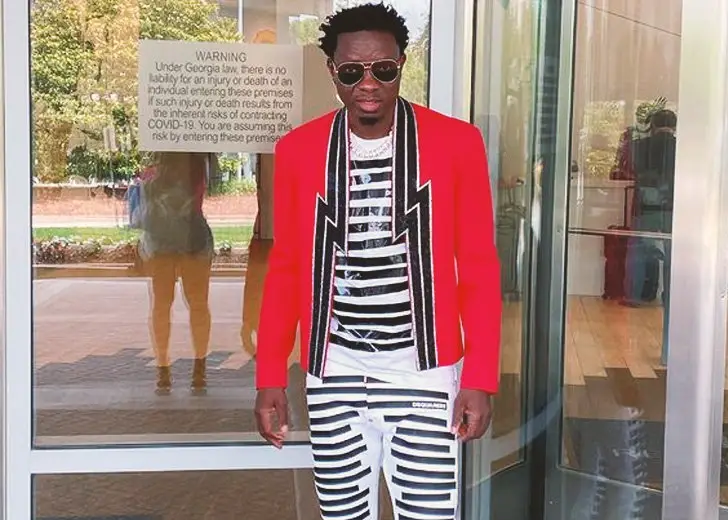 Comedian Michael Blackson went off the market after a very public proposal to his girlfriend, Miss Rada, during an appearance on the popular internet radio show, The Breakfast Club. 
The comic invited Rada into the room intending to pop the question when Charlamagne Tha God nearly ruined the surprise. 
Blackson's Public Engagement
"He said he gonna marry you. He said he wanna get married, Rada!" the radio host jumped, while Blackson tried his best to play it off. But Rada immediately jumped on the wagon and said, "You told me that the other day! You going back on it now?"
Apparently, the comedian realized that his cover was blown, so he decided to pop the question then and there. He fumbled with his backpack to find the ring he had on standby, and as soon as he pulled it out, the entire crew started cheering. 
With everyone from The Breakfast Club encouraging him to get down on his knees, Blackson complied and said, 
Rada, I love you. Will you marry me?
Of course, Rada said "yes" while still fighting back the tears as she hollered, "Bye side bishes, yes!"
Blackson Celebrated His Fiancée but Deleted the Post 
Soon after, Blackson put up a post on his Instagram featuring a beautiful snap of the couple walking on a red carpet. Accompanying the snap was a lengthy caption meant to celebrate his fiancée. 
"Meet the future Mrs.Blackson @mzradadarling," he began. 
He called out all the ladies and asked them for loyalty because, according to him, all men are prone to creating difficult situations. Then, following through, he reassured that men would eventually find it in them to do the right thing. 
He claimed he was blessed to have Rada by his side, as she was the definition of a great woman. He also called out his fans, who called Rada a gold digger, and shot back at them with, 
Most of my haters call her a gold digger but believe me Rada has never asked for penny from me, she's very independent and she's actually the one that takes care of me plus I'm allowed a side chick a month. Lol.
However, the comedian has since deleted the original post from his Instagram. 
Their on-and-off Relationship
According to Global Hip Hop, Rada once wrote, "I'm glad we both swiped right," on Instagram. The post has since been deleted, but it suggests that the couple met via a dating app. 
The pair made their relationship Instagram official in July 2020, when Rada uploaded a snap of the couple. However, just as fans and outlets were trying to piece their relationship timeline together, the couple broke up later that same month.
At the time, the couple deleted all their pictures together, making fans believe that they had broken up for good. But then, they sorted out their qualms fairly quickly, and they were back to gushing over one another just a week later. 
As for Blackson's proposal, even though he seems to have taken down his original post, his wife-to-be still has the magical moment on her Instagram. 
The comedian has three kids from his past relationships. However, the identity of the mother of his children had been kept under wraps.