'Coming 2 America's' Michael Blackson Wanted a Side-chick-Friendly House for Himself
Michael Blackson had a special request to accommodate his family along with a bevy of side chicks while he came house hunting in the VH1show, 'Love And Listings' in September 2019.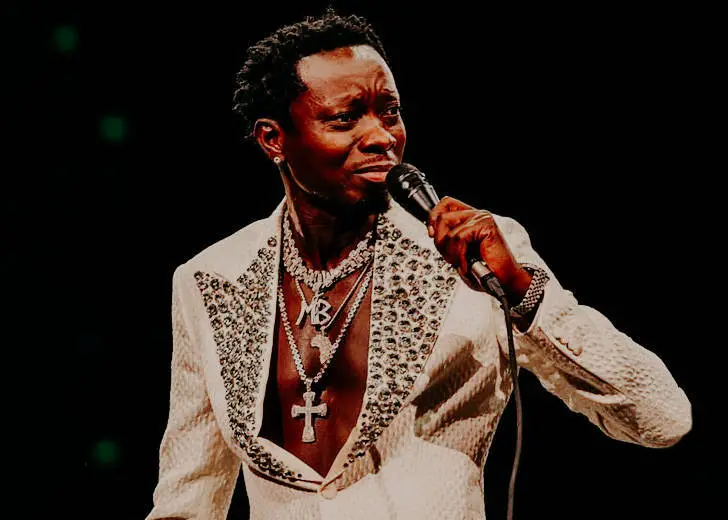 Ghanaian- American actor and comedian Michael Blackson had a special request to accommodate his bevy of side chicks while he came house hunting in the VH1show, Love And Listings, in September 2019. 
Blackson Wanted to Buy a Side-Chick Friendly House
In a deleted scene uploaded by the official YouTube channel of VH1, it was seen that the actor had an unusual request for the real estate dealers, Samantha and Sarah, while looking for a new house. He wanted a house that could accommodate both his family and his frequent female visitors. 
As per the client's specific needs, Sarah felt the house would fit perfectly fine with Blackson. The comedian wanted a place with at least four bedrooms, one for himself, second for his twin sons, third for his teenage son, and the fourth one for his special lady visitor, aka "the main girl" that he brings home that night.
"I need a room for me, I need a room for my twin boys, a room for my teenage son, I need another room for whenever I find a woman."
Not only that, but he also wanted a separate room for his other girls," the side girls" who visited his house. While Sarah explained the client's need, Samantha is surprised listening to the unusual requests and asked, "Who is this guy?". 
Sarah then said with a laugh, "Michael Blackson wants this house to be side-chick friendly." She said she had never heard of such requests yet, even though many of her clients have a lot of side-chicks. She wondered if she could get a bonus if she got her some side-chicks, Sarah jokingly added. 
As soon as the 'Coming 2 America' star arrived, he asked if the temperature of the house could be increased as he likes to live in a hot temperature. After that, Blackson asked the price of the house before having a tour, "$5 million," Samantha said. With his quirky sense of humor, the actor said, "Jesus Christ, who's next door? Barack Obama?"
They then went on a tour of the beautiful villa that had three ensuite bedrooms with attached bathrooms. The three hopped on the shower to see if three people could fit inside in the shower because Blackson wanted to try things out before he bought. He even wanted to test if the bed was comfortable enough.
After finishing the tour, the Hip Hip Squares star said he would put up an offer and ask the dealer to make it happen. 
Blackson's House Party
In a video uploaded by Blackson in November 2020 on his official YouTube Channel, he was seen enjoying the night with his fellow co-star of 'Coming 2 America', Eddie Winslow, his friends, and some gorgeous ladies. 
They seemed to be having a fun time drinking and eating. Murphy even belts out a few words from Tyrese Gibson's song.
Although it was not the same house shown on the VH1 show, it looked spacious and comfortable.
Surrounded by The Ladies 
Not only in the video but in his Instagram pictures too, Blackson is seen surrounded by the ladies most of the time. 
On Valentine's Day 2021, the actor posted a series of beautiful pictures with his girlfriend Rada. In the main picture, the couple was seen wearing a matching outfit and arms wrapped around each other.
While Rada was seen flaunting her toned body in the "cheetah print" bikini and coverup, accessorized with a hairband, Blackson was seen wearing the cheetah printed shorts, accessorized it with a diamond chain with his initials "MB" and a pair of sunglasses.
Other pictures featured memorable moments with his lady love from the past. According to the post, they have been dating for two years and are looking forward to spending twenty years in the future. 
He captioned the picture, "It's been a wonderful two years, and looking forward to 20 more. Happy Valentine's Day @mzradadarling ❤️ ❤️ ❤️"
Some fans seemed to be intrigued by the caption. One individual wrote, "So you saying it's over in 2041?" while another user commented, "So you tryna say you will drop her in 20 years??? Damn."
Besides this, the African-American actor also posts many pictures surrounded by ladies. Blackson posted a picture in a bright yellow suit with four ladies who were wearing black bodysuits. The picture was photobombed by a guy at the side staring at the camera, and he captioned the picture, "Why that fat neega hating on me?'