Micah Parsons Put His Child First and Opted Out of 2020 Season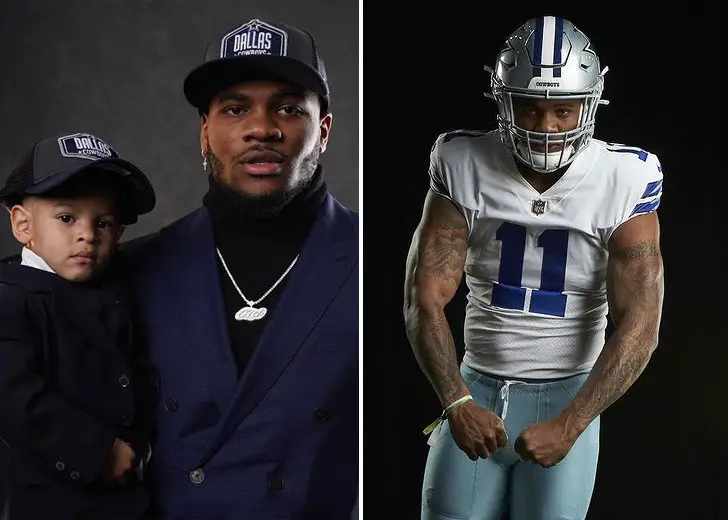 Micah Parsons became a father to his child, allegedly his first baby, back on May 1, 2018.
He later announced that he was blessed with a baby boy through his social media.
However, he is yet to shed any light on his baby mama, with many wondering if Parsons has a girlfriend or wife.
While the information on whether he has a wife or a girlfriend remains under wraps, the NFL star has repeatedly made the headlines for his relationship with his child.
Micah Parsons Took a Break to Spend Time with His Child
Take, for instance, the time Parsons shocked everyone when he unexpectedly decided to opt-out of the 2020 season for Penn State to spend more time with the little one.
And even though some fans critiqued the linebacker's decision to miss a whole season, many also praised and looked at him as a shining example of a committed father.

Micah Parsons spending time with his child. (Photo: Instagram)
"This was the hardest decision I ever had to make," he talked about his decision to opt out in an official announcement video. "I had to talk to people I trusted to the most...I talked to coach...family, [and] friends."
Parsons also shared that he was able to take the decision after his teammates and coaches backed him to stay home and take care of his family.
Micah Parsons Immensely Loves His Family, Especially His Son
In the same announcement video on YouTube, the 22-year-old opened up about his admiration and love for his family and how he wanted to be an exemplary parent to his child.
He first recalled his own childhood and revealed that he grew up with limited resources in Harrisburg, Pennsylvania. "I never really had much," he added.
But at present, he felt that he has a great opportunity to give his son everything that he never had — especially a fulfilling upbringing.

Micah Parsons travels with his son. (Photo: Instagram)
Besides, Parsons' love for his son is also seen regularly through his Instagram posts. The last post he dedicated for his son was on May 1, 2021, to mark the little one's third birthday.
"This is your day, three years ago today you changed my life! Idk where I would be without you! But I hope you become the best person you can be! You growing up to fast on me!" he emotionally penned his caption.
Does Micah Parsons Have a Wife?
As stated earlier, there has been no revelation regarding Parsons's baby mama so far.
Due to the same privacy, it is again unclear if he is still with his baby mama, dating another girlfriend, married to a wife, or still single.
But a tweet from Jon Machota, a journalist covering the Dallas Cowboys for The Athletic, hinted at the Cowboys player being single and living with his mom and son.
In the tweet, Machota revealed a message Parsons sent in a group chat with Cowboys teammates, reading, "If you don't got your family in town or your wife don't feel like cooking (for Thanksgiving), you're more than welcome to come to my house."
"My mom makes enough for about 100 people. Anybody can come. I always enjoy bonding," the message further stated.
That said, the tweet does not fully clarify Parsons' relationship status; hence, one needs to wait for official news in the future.