Meyers Leonard Reveals How Competitive His Wife Is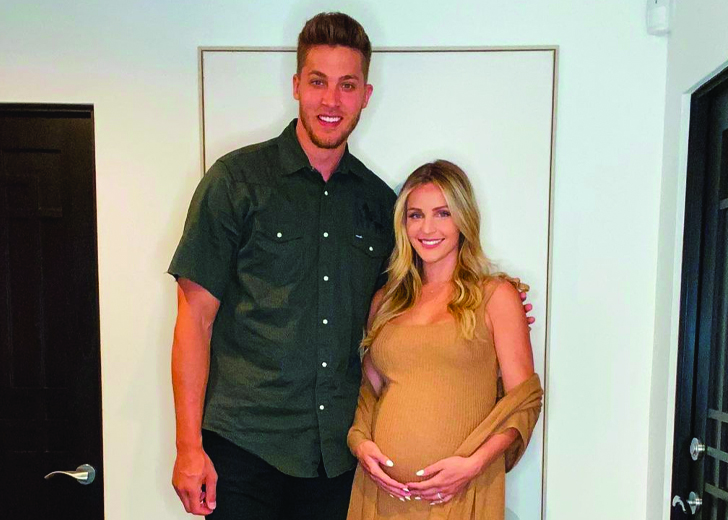 Miami Heat center Meyers Leonard and his wife, Elle Leonard (formerly Elle Bielfeldt), have been together for about a decade now. They initially bonded because of basketball.
It was on their first date that Meyers realized Elle's competitive nature. She gave him a run for his money on the court on their first date.
And having played the game throughout her high school years, Elle even won a few rounds against her then-future husband.
Meyers Leonard's Wife Did Not Go Easy on Him on Court
Meyers and his wife Elle met because of his brother. They first came across one another when he hosted her brother, Max Bielfeldt, before joining the University of Illinois.
But it wasn't until two months later that they met again, this time at her best friend's birthday. This was, according to Elle, the first time he noticed her properly. Meyers just saw her from across the bar and thought she was beautiful.
He was too shy to ask for her number himself, though. Instead, he asked his teammates to get him her number.
She refused to give them her number, but he eventually got a hold of that through a mutual friend. Then the talking began.
After a failed attempt at spending time at the college dining hall, she said to him, "If you want to spend time with me, let's go shoot."
And so they did. She was out of practice and missed shooting around; he was hyped by the proposal.
They ended up playing half-court together for almost four hours, and he realized she was "ultra-competitive," as he would put it during an interview with Five Reasons Sports Network in December 2019.
Meyers also did not know that she was a 1,000-point scorer in high school. They both did great against one another, but Elle surprised him in one game.
While playing Around the World, he went first and scored 22 out of 25 mid-range jump shots.
Unbeknownst to him, mid-range was Elle's bread-and-butter, and she scored 23 out of 25 she took.
Meyers recalled thinking, "What did I just see myself into?" after that game. But they didn't just play.
After a couple of hours, they sat around and talked long into the night, well past midnight. "We've always bonded over going to the court and just hanging out and talking," Elle said during her interview with Forbes in 2020.
Meyers Leonard's Wife Is Still Very Competitive
During the same Five Reasons podcast, when asked if she thought she should have taken it easy on him, she responded with a stern no.
"Oh heck no! Hell no!" she shot back. She revealed she was similarly competitive even then, years into their marriage.
"There has been no point in our relationship where 'take it easy on him is something that will happen," she added. "I'm too competitive."
Instead, she got upset when he took it easy on her. And she was bothered by every loss she suffered against him, whether that be swimming, tennis, or any other sport.
"I'm an absolute superior athlete compared to the average person and she tells me not to take it easy," Meyers confessed.
But Elle wasn't just competitive. According to him, his wife was also goofier and more entertaining than him. She was also the funnier one between the two, at least behind closed doors with their family.

Meyers Leonard and his wife, Elle Bielfeldt, on their wedding day on August 2, 2015. (Photo: Meyers Leonard/Instagram)
The pair got married on August 2, 2015, and are now expecting their first baby.
"T-Minus 3 months till our little man is here," Elle wrote on Instagram on March 7, 2022, announcing her baby's due date.
It will be interesting to see if their kid inherits their father's height and mother's competitive nature.