Matthew Stafford and Wife Kelly Stafford and Have Four Cute Daughters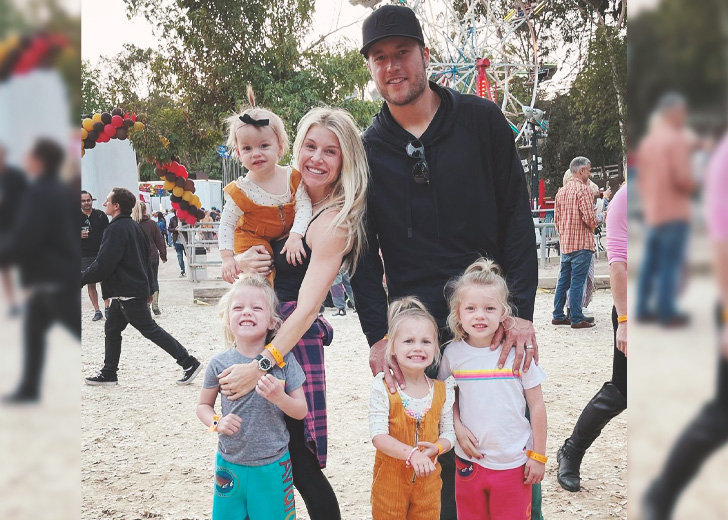 Los Angeles Rams' quarterback Matthew Stafford was once ranked top 10 of National Football League quarterbacks according to ESPN. The quarterback has led his former team, Detroit Lions, to victory many times.
He is widely known as one of the best quarterbacks, but that's not all. He is also considered an ideal father and a perfect husband.
Unlike other NFL players caught up in cheating scandals and controversies, Matthew has a squeaky clean image. The former Detroit Lions player is more of a family man. He often talks proudly about his wife and high school sweetheart, Kelly Stafford, in his interviews. 
The couple met at the University of Georgia. Matthew was a freshman quarterback for the Georgia Bulldogs football team, while his wife was a cheerleader. They started dating a while later and stayed together for several years. 
The duo tied the knot in 2015. 
Getting to Know Matthew Stafford's Wife 
Interestingly, Matthew isn't the first person in the NFL in his wife's family. Kelly's brother is Chad Hall, a former NFL player, and current Buffalo Bills wide receivers coach.
Kelly left her cheerleading days after she got married to Matthew. She is now a mother of four kids and hosts her podcast. 
On one of her podcasts, Kelly revealed that a panic attack she experienced made her realize that she was not focusing on him. She shared that Matthew aided her during the episode. He then asked her to put everything else first and put him last on the list of priorities when she calmed herself down.
His wife realized he was right, and since then, she has been prioritizing her kids and husband. 
In 2019, she was diagnosed with acoustic neuroma, a slow-growing tumor on the main nerve leading from the inner ear to the brain. She underwent a 12-hour surgery and required assistance to perform her daily tasks. 
But the most challenging part of the recovery for her was not being able to help her children. 
Mathew and Kelly Stafford's Kids
Mathew and his wife have four kids. 
The couple welcomed their firstborns, twin daughters, Chandler and Sawyer, in March 2017. A year later, they gave birth to their third child, a daughter named Hunter. The NFL player and his wife often share photos and videos of their family on their Instagram. 
In one of the videos, the NFL quarterback's three daughters were dressed in Detroit Lions cheerleading outfits and cheering for their dad with pom-poms in their hands. They then hugged Matthew goodbye and entered the Lions stadium. 
In June 2020, the couple welcomed their fourth child, a daughter. Before the birth, Kelly made it known to her Instagram followers via her story that this would be her last pregnancy and that they were happy and complete as a family of six.