Who Is Matt Nagy's Wife? Family Humiliated as Fans Want Him Fired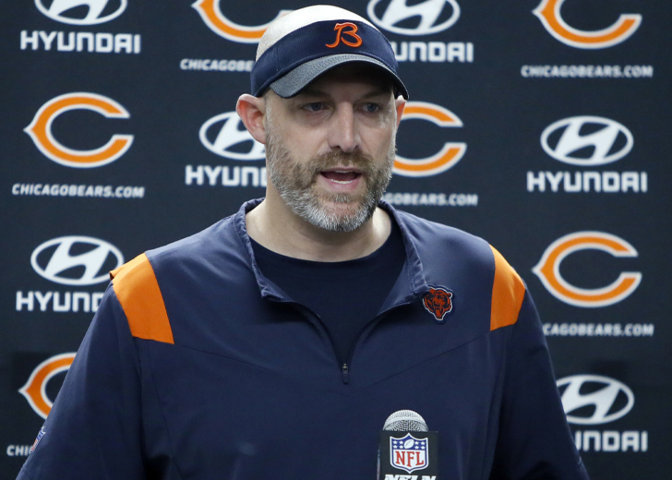 NFL coach Matt Nagy and his wife Stacey Nagy have been together since their high school days.
The couple got married in 2002, and as per Heavy, they were based in Lake Bluffs, Michigan, as of 2019.
Reportedly, the Nagy family was living in their $2.75 million home during the said time.
The husband and wife are proud parents of their four sons, Brayden, Tate, Jaxon, and Jett, and two of them are twins.
Despite being associated with the popular American football coach, little is known about Stacey and her professional ventures.
Matt Nagy and His Wife  
As per reports, Stacey and her kids are a regular fixture during her husband's many press meets. Nagy's family members are also spotted numerous times during match days.
Stacey, most notably, was present alongside Nagy when he became the head coach of his current team, The Chicago Bears of the National Football League.
In 2018, Nagy and his wife were invited to a private dinner by Bears general manager Ryan Pace and his wife to discuss a potential role of head coach.
According to Nagy, the understanding between their wives who sat together talking to each other gave him the right feelings about his then-potential move.
"You just knew it, and you felt it," coach Nagy told The Chicago Sun-Times in 2018.
The now-well-known coach started his career in 2008 after taking a coaching internship with the Philadelphia Eagles. However, he soon opted for a job selling homes.
Later in 2010, Nagy was offered a second chance in coaching by his college friend Brett Veach who asked him to take the risk, USA Today wrote in their report.
He was offered a full-time position of assistant coach with the Eagles that paid $45,000 annually but required him to drive 100 miles each day from Lancaster, the place his family was based at the time.
Nagy, who previously was the assistant coach's assistant, and his wife, decided to take the risk and accept the position.
He left the assistant coach job in 2012, opting for a move to Kansas City Chiefs as offensive coordinator. Nagy quit the Chiefs in 2018, prioritizing a move down to Chicago.
The Bears' fortunes transformed during the first year of Nagy's tenure as Head Coach.

The Chicago Bears Head Coach, Matt Nagy (Source: Instagram)
Under Nagy's leadership, the club won the NFC North for the first time since 2010, and his efforts were recognized with the Associated Press NFL Coach of the Year award.
The big award coincided with his 17th wedding anniversary with Stacey.
Fans Want Matt Nagy to Step Down
Fast-forward to three years, and things look gloomy for the Bears' main man.
Nagy's future with the Bears has grown immensely doubtful, especially after last Monday's defeat to Minnesota Vikings, marking a poor run of form all season.
It is safe to say the team's hierarchy George McCaskey and Ted Phillips are under pressure to fire their head coach to please the Bears' upset fanbase.
Earlier in November 2021, Bears fans voiced their opinion, asking Nagy to step down from his position, given his team's slump in performance.
Upset fans of the team took matters a step further by chanting "Fire Nagy" during his sons' High school football game.
During the incident, Nagy's sons Brayden and Tate, listed on the roster at Lake Forest High School, Class 6A, were playing for their team in the state semifinals to Cary-Grove.
Later, a video recording of the incident went viral on Twitter, bringing humiliation to the family members.