Is NFL Coach Mike Zimmer Finally Dating Someone After A Decade Since Wife's Death?
Mike Zimmer is an American football coach. He suffered a tragedy back in 2009 when he lost his beloved wife. With his wife, Mike was blessed with three children. However, after such a long time, it now seems that he is dating and has a girlfriend. Nonetheless, there is still no official confirmation about him being in a relationship.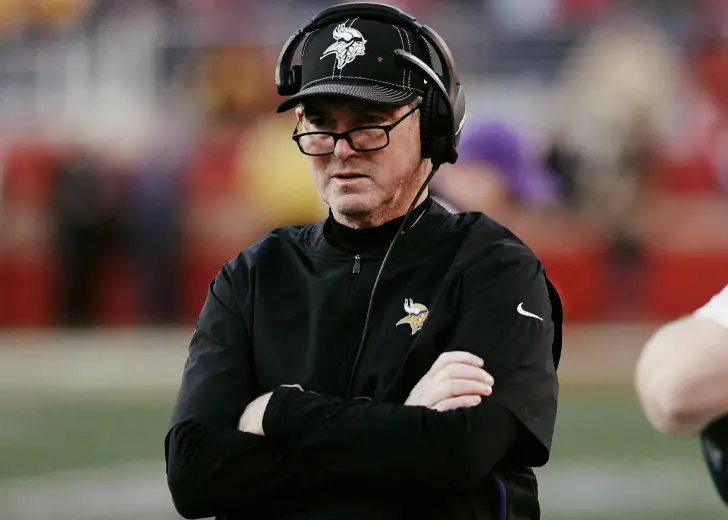 Mike Zimmer is an American football coach, currently serving as the head coach of the National Football League's (NFL) Minnesota Vikings—appointed in January 2014. He has managed to lead the team to three playoffs in his tenure with the team and has won two NFC North titles. Previously, he worked as a defensive coordinator for teams like Cincinnati Bengals, Dallas Cowboys, and Atlanta Falcons.
Aside from the success of his professional life, coach Mike also had a very quality time in his personal life with his wife, Vikki Zimmer, with whom he married in 1982. Unfortunately, on October 8, 2009, he was left devasted when he found his life partner was no more after returning from a practice session. Later, it was revealed that Vikki had died of natural causes. 
But that was almost 11 years ago. So, what is going on in Mike's personal life now? Has the Minnesota Vikings' head coach moved on from that tragedy? Let's find out!
Mike Zimmer Was Devasted After His Wife's Death
The Peoria, Illinois native, Mike Zimmer, was devasted when his wife passed away. And why would he not be? His life partner of 27 years was no more, and now he was all alone.
However, for the true professional that he is, three days after Vikki died, Mike carried himself and coached Cincinnati Bengals, his former team. After the game, which the team won, he gave a very heartful speech amongst his team's players, and he was even awarded 'the game ball'.

Mike Zimmer during Minnesota Vikings' game (Source: news.illinoisstate.edu)
In a talk with ESPN, Mike stated that his late wife was sweet, kind, and caring. Moreover, in the loving memory of his late wife, Vikky, Mark has also established the Mike Zimmer Foundation, which focuses on making better lives for children in need, just like his late wife used to do.
As of now, it seems that Mike has eventually got over the phase, with, of course, all of the memories of his late wife.
Mike Has Three Children With His Late Wife
While he was married to Vikky, Mike Zimmer had some wonderful moments which he would never forget. Among all of those moments, one of the major is when he became a parent.
Mike and his late wife Vikky Zimmer are parents to three children—a son and two daughters. Mike became a father for the first time in 1984 when Vikky gave birth to their son, Adam Zimmer. Later, in 1987, they were blessed with a daughter, whom they named Marki Zimmer. Their second daughter Corri Zimmer was born in 1990.

Mike Zimmer with his late wife, Vikky Zimmer, and their children (Source: ESPN.in)
Mike's first-born, Adam Zimmer, follows his father and late grandfather Bill Zimmer's footsteps. He is serving as the co-defensive coordinator and linebackers coach for the NFL's Minnesota Vikings. Bill was a longtime Lockport High School football coach. He passed away in August 2015.
However, as of now, there is no news on what his two daughters are doing. 
Is Mike Zimmer Dating Anyone At Present?
After the tragic death of his wife, Coach Mark kept a low profile regarding his personal life. So, after more than a decade of losing the love of his life, it seems that Mike has moved on from his past and is dating someone.
In January 2020, news began spreading that Mike Zimmer was dating a former Maxim cover model named Katarina Elizabeth Miketin. Katarina, who currently works as a Vice-President at Frandsen Bank & Trust, is a huge football fan. Moreover, the gossips about them being boyfriend-girlfriend got heated after a picture of them posing together during a Vikings' holiday party surfaced on the internet.
While neither coach Mike nor Katarina have yet confirmed their romance, the internet seems to think it is pretty solid. But since none of the two have given any statements regarding the topic, the rumors about their relationship might be just that—rumors.