Inside Matias Sebastian Ochoa and Girlfriend Azul Granton's Relationship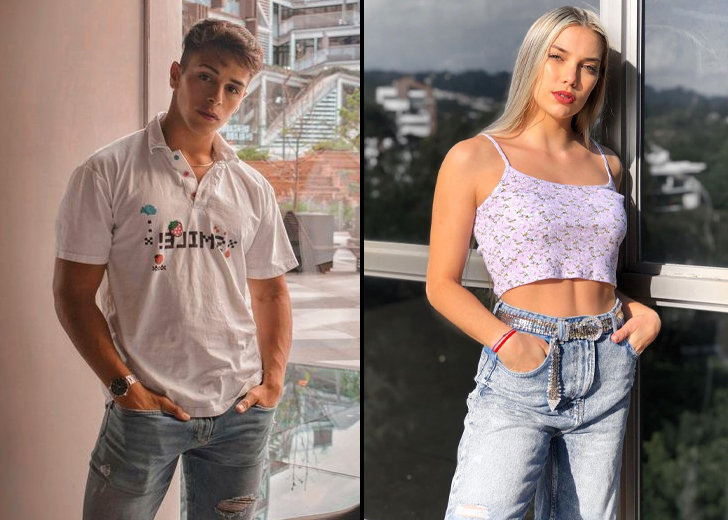 On October 5, 2021, former Esto es Guerra (This Is War) contestants Matias Sebastian Ochoa and his girlfriend Azul Granton celebrated their second anniversary. 
Granton took to Instagram and posted a photo of her carrying her shirtless boyfriend as they posed for the camera with wide smiles. 
"Happy 2 years love!!! I hope you continue to put up with me for a long time, and that we can continue to grow and fulfill our dreams together, I love you!!! @matiasseba.ochoa," wrote Granton.
Fans took to the comments section, congratulated the couple, and noted that they were made for each other. 
Matias Sebastian Ochoa's Gift for Girlfriend Azul Granton
It is unconfirmed how the couple started dating, but they participated together on This Is War, where competitors battle it out in different physical challenges similar to American Ninja Warrior. 

Matias Sebastian Ochoa and his girlfriend, Azul Granton (Source: Azul Granton/Instagram)
They opened up a little about their relationship when they were first introduced to the show.
Ochoa noted that he and his girlfriend always looked forward and sought to grow, which kept their relationship intact. 
Later, during the end-of-season special on the reality series, the contestants exchanged gifts for a secret Santa Christmas.
Ochoa revealed that his "secret friend" was none other than his girlfriend.
"I have a little gift right now and it's for a wonderful woman who is Azul Granton. She loves jewelry, so I'm giving her a very nice ring now," said the Argentine influencer. 
He then took out the ring and put it on his girlfriend, which audiences assumed was a marriage proposal.
But Ochoa immediately clarified that it wasn't the case and that he did not plan to marry anytime soon. 
"Don't be confused, guys, please. We are still very young, we are 22 years old," he clarified.
Matias Sebastian Ochoa Pranks His Fans
After the reality series ended, Ochoa and Granton were forced to separate. 
The Argentine model traveled to her country, while the TikToker spent his time in Peru.
On December 28, on the occasion of the Day of the Innocents, Ojo reported that Ochoa played a practical joke on his followers.
He took to Instagram and announced that he and his partner had broken up through a post. 
The former This Is War contestant thanked Granton for their time together. 
"It was very nice while it lasted! Thank you so much for being my best friend and my girlfriend! I will never forget everything we went through together!"
He continued saying that the two years they spent together were full of love and that Granton could always count on him for anything she needed. 
Their followers expressed their sadness and concern; however, they quickly realized that it was a prank.
The next day, Ochoa took to Instagram and posted a photo of sharing a kiss with Granton accompanied with the caption "Te Amo" as the breakup post had never happened. 
And it looks like the couple is still going strong, considering that they have been making TikToks together.