Mary Steenburgen's Ready for 100 More Lifetimes with Husband Ted Danson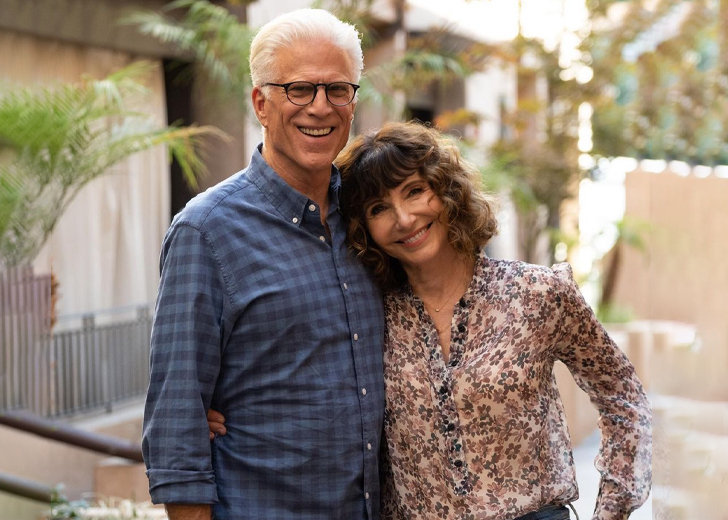 Mary Steenburgen has been married to her husband, Ted Danson, for over 25 years. The two first met in 1973 while filming for the movie Pontiac Moon (1994).
The two actors have been very open about their love for one another and have expressed how much they adore one another on multiple occasions.
During an interview with People, Steenburgen shared she would gladly spend a 100 more lifetimes with her husband.
"Not to sound corny," she said. "But I would sign up for a 100 more lifetimes."
"Because he makes me a better person. He's a truly beautiful human being. A great big soul. I love how he sees the world and how he cares about people. And he's deeply hilarious, which is super super sexy to me."
How Mary Steenburgen Met Husband Ted Danson
Steenburgen and Danson met while co-starring in the 1994 movie Pontiac Moon. Initially, she thought he was a "slick" and "breezy" kind of person.
However, the more they worked and got to know each other, the more she realized she couldn't be farther from the truth.
"He was so not slick," she shared during an interview with SiriusXM. "He was very soulful and of course, devastatingly funny."
When they met on the set of the movie, both Steenburgen and Danson had sworn off relationships because of their previous failed relationships.
However, as time went by, the two gradually started liking each other. However, the incident that made them "smitten" with each other was a canoe trip and a picnic he planned with a bunch of people.
"Mary was in the front and I was in the back. It was a beautiful canoe with pontoons and everything," he shared.
"We outpaced everybody cause Mary… kept wanting to go around the next bend and see what was there. And it was very magical. And we came back differently. We came back, I think, in love to be honest."
Mary Steenburgen and Ted Danson
After two years of knowing each other, Steenburgen tied the knot with Danson on October 7, 1995.
Since then, the couple has hit major milestones in their relationship.

Mary Steenburgen with husband Ted Danson (Source: Instagram)
On October 7, 2020, Steenburgen took to Instagram to mark their 25th wedding anniversary with a sweet photo of herself and her husband.
"Happy 25th Anniversary! This was SUPPOSED to be a sweet loving anniversary photo but you have a big piece of salad in your teeth," she wrote in the captions.
She then thanked her husband for making her laugh every single day since their marriage and described him as "the goofiest, wisest, kindest, dreamboat" in the world.
The Step Brothers actress has also posted about her stepdaughters. She previously posted a picture of his two daughters, Kate and Alexis, whom she became stepmother to when they were eight and thirteen.
She also has two children of her own from her previous relationship with Malcolm McDowell. One of the two children is actor Charlie McDowell, who married actress Lily Collins on September 4, 2021.