'Not Great Timing' — Martin Henderson Shares His Thoughts on Jack's Proposal on 'Virgin River' Season 3
Martin Henderson weighs in on season 3's final episode of 'Virgin River.'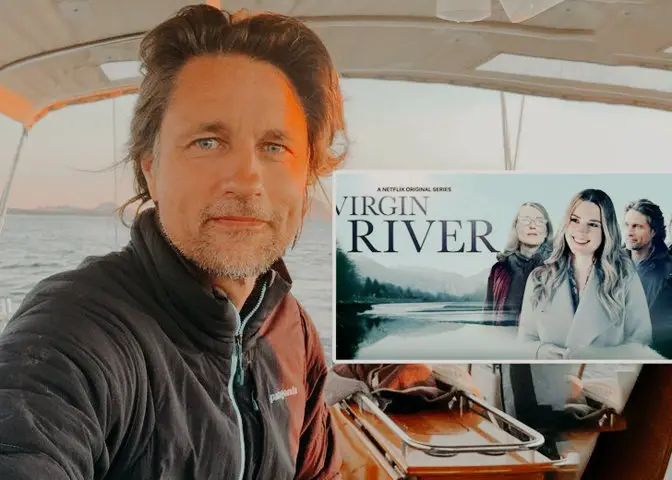 SPOILER WARNING: Plot and ending details for Virgin River follow.
If you've watched Season 3 of Virgin River, you already know that it was loaded with unexpected and never-ending twists.
But the season finale of the Netflix drama unfurled so many cliffhangers that it undoubtedly left fans clamoring for more.
Much of the series is about the topsy-turvy relationship between Melinda 'Mel' Monroe and Jack Sheridan.
Things were looking up for the two, but Mel dropped a bomb in the final moments of the last episode of season 3.
As Jack got down on one knee and pulled out the ring, he was interrupted by Mel, who wanted to make a confession. 
"I'm pregnant," Mel said. to which Jack responded positively, thinking the baby was his. But Mel relayed she did not know if he was the father.
And just like that, the show ended, and credits started rolling. 
On His Role as Jack
During his interview with TV Insider, Martin Henderson opened up about his role as Jack Sheridan and all the significant moments he went through. According to the actor, the timing of the proposal was off. 
He admitted it was not the best time to be making a big decision since it was an emotional time where Lilly [Lynda Boyd] had just died and Hope [Annette O'Toole] was in the hospital.  
Yeah, I agree. I just think the writers wanted to have as much going on at the end of Season 3 as humanly possible. They're like, "OK, what is the most dramatic thing we can do? Well, let's have him propose, and then she'll drop the baby bombshell, and she'll tell him it might not be his."
The actor also added that Jack's proposal was fueled by guilt and shame, even though he thought he was doing the right thing.
He opined that Jack wanted to prove his loyalty and commitment to Mel, and what better way to do than with a proposal. 
He also felt that the breakup between Jack and Mel was unnecessary, since Jack spent so much time wooing Mel.
He should not have been scared off by her circumstances. But the writers insisted they wanted to have the pair broken up for a while.
Virgin River's Success
The beloved drama series follows Mel Monroe (Alexandra Breckenridge), a nurse from Los Angeles seeking a fresh start from her traumatic past, who moves to the small town of Virgin River. 
She ends up falling in love with the town's brooding bar owner Jack Sheridan.
But the ex-Marine has his own battles. He is dealing with PTSD and the upcoming births of his twins with his heartbroken ex-girlfriend, Charmaine (Lauren Hammersley).
In January this year, Deadline reported that the beloved series had overthrown The Crown for the top spot according to Nielsen's weekly streaming rankings. 
The show racked up almost 1.8 billion minutes of viewing from November 30 to December 6 and steadily rose through the ranks. 
You can watch seasons 1 to 3 of Virgin River on Netflix.