Marshmello Might Be over Deadmau5 Beef but Deadmau5 Isn't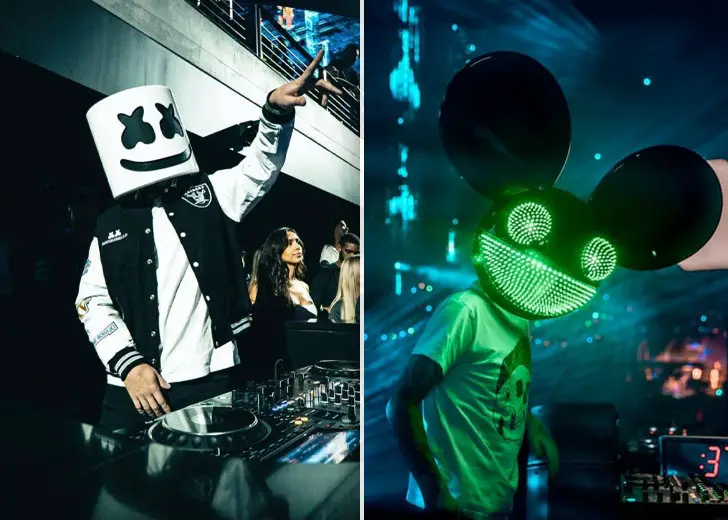 It looks like famous DJ Deadmau5 is not done taking jabs at his old nemesis Marshmello and reignited their beef. 
According to TMZ, the DJ was streaming on Twitch on December 15 when he was asked if he still had problems with Marshmello, to which he replied he would if the DJ was still relevant. 
He continued to drag the artist, insinuating that Marshmello was just in it for the money.
"I guess he made his money and got out. Whatever, don't spend it all in one place," he said.
Deadmau5 also dragged his manager, Moe Shalizi, to expand their portfolio.

Marshmello And Moe Shalizi (Source: Moe Shalizi's Instagram)
The manager had recently bragged about the "empire" he had built with the 'Alone' artist and how he wouldn't have it any other way.
Marshmello has not yet responded to the latest comments, but back in May, the Dj claimed he had no ill feelings towards Deadmau5. 
Their beef seemed like a thing of the past, but it looks like Deadmau5 was not feeling the same way.
Deadmau5 and Marshmello's Beef
Both Deadmau5, also known by his real name of Joel Zimmerman and Marshmello, are known for their unique headpiece, which they wear during their performances.  
The beef between these two started in 2016 when the Fortnite collaborator called out Deadmau5 for allegedly flipping him off during the Ultra Miami Festival.
That was just one of Marshmello's many antics that pissed off the 'Ghosts' n' Stuff' artist. The DJ also made music videos with a not-so-subtle "inclusion" of Deadmau5.
In his 'Alone' music video, a pet mouse named Joel and a mau5head-donning character were in his video for 'Ritual.'
The 'Strobe' producer, who wasn't having any of it, reached his breaking point and went on a Twitter rant and revealed Marshmello's real name, which was still a secret at the time.
But his retaliation received backlash, with Skrillex publicly calling the frustrated DJ a bully shortly after that.
He then deleted the tweet. "Alright, I don't normally delete tweets, but that [expletive] scrub needs to earn [expletive] attention by actually doing something interesting," the producer tweeted.
Marshmello on Ending the Beef
But on May 28, 2021, during  Marshmello's feature for GQ, the 'Fly' artist got candid about his online feuds with Deadmau5.
He appeared to offer a gesture of reconciliation to put their past behind them. 
The DJ who once mocked the hugely popular EDM producer was subdued about all of it.
Marshmello claimed that their feud was old news and did not want to get into it. 
I grew up listening to Deadmau5, you know? He's definitely a pioneer of electronic dance music for sure. And as far as that mask goes, I have no animosity towards him.
With the pandemic coming to a slow end, the DJ added that the world needed a little more compassion; hence, he hoped to do less feuding.
He explained that the pandemic had slowed things down, and people had had time to look at themselves. 
The DJ noted that all beef needed to simmer down.