Marsai Martin Celebrates 17th Birthday with an Amazing Photoshoot
Marsai Martin is almost an adult!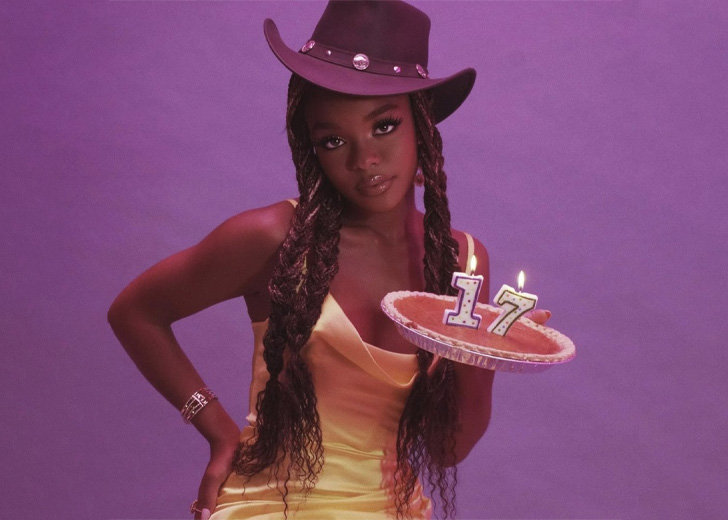 Actress Marsai Martin has practically grown up right before our eyes. She has been stealing the show on Black-ish since the first time she appeared on-screen.
Martin has been on the show since she was nine years old. And she's now on the brink of adulthood, having just celebrated her 17th birthday.
Celebration With Photoshoot
To commemorate her 17th trip around the sun, Martin took to Instagram to share a few pictures of her in a celebratory mood. For the birthday shoot, she wore a cowl neck yellow slip dress. She paired that up with a cowboy-Esque hat with metal decorations.
Her hair was braided into four braids. As for the makeup on her face, the rhinestones on her eyelids stood out and matched with her hat.
She finished off the look with nails painted with light color, rings on her right-hand fingers, and bracelet-like jewelry on the other arm.
However, among all these, the highlight of the snaps was the pie. The young actress was seen holding a decorated pie with candles displaying number 17 standing atop the pie.
To top off the celebratory post, she directed gratitude towards the heavens, writing, "Thanks God 'preciate it," followed by a partying emoji.
The comment section of the post was flooded with wishes on her special day. Fans and celebrities alike poured out their hearts for the young star, writing words of love and appreciation for her.
The Black-ish actress was also shown love on the day by her fellow cast on the show. Tracee Ellis Ross took to her Instagram to wish her and express her disbelief on her TV daughter turning 17.
Yara Shahidi, another Black-ish regular, made her own birthday post calling Martin "the best TV sis a girl could ask for."
And Miles Brown, another young cast member on the show, took the opportunity to celebrate her and post a video from a set from years ago. The two can be seen creating beats, rapping, and vibing in the clip.
Amazing Accomplishments At Just 17
Martin has had immense success way before she has reached adulthood. The first among them is her stellar acting career. Other than Black-ish, her acting credits include Goldie and Bear, Little, Dragons: Rescue Riders, Vampirina, Spirit Untamed, and Paw Patrol: The Movie.
But it doesn't stop there. Apart from acting, she is also a producer. In fact, she became the youngest executive producer in Hollywood with her movie Little. All these works have got her nominated for various awards over the years.
An extremely financially savvy person, she is also the CEO of her production company, Genius Entertainment. She already has a lot of knowledge about the business and how money works at such a young age.
And she wants to impart that knowledge to the youth. So with that in mind, she has recently started a financial series.
In Money With Marsai Martin — a six-part series that can be watched on Verizon Media's In The Know — she talks with industry experts on various subjects like finance, education, and entertainment.
All this before turning 17! No one knows what she has in store for all of us, but one thing is sure — nobody will be surprised if she cements her place as a legend in the entertainment industry.