Mark Wystrach and Wife Ty Haney Welcome Baby Boy — Inside Their Family of Four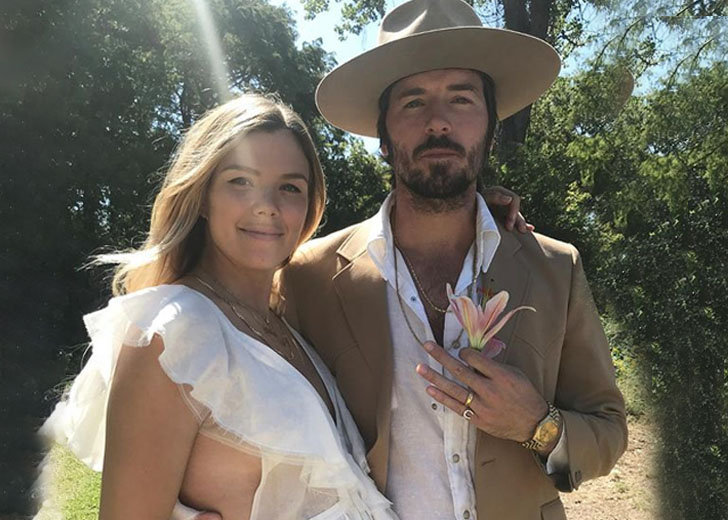 Mark Wystrach and his wife Ty Haney gave birth to their second child, a baby boy, on December 5, 2021. 
The country music singer took to Instagram to confirm his son's arrival through a joy-filled announcement. He posted an adorable picture of his newborn baby taking a nap on his chest. 
Then, in the caption, he revealed that his baby boy weighing 8lbs 13 oz had arrived precisely at 5 o'clock. "I present to you, our lil hombre… "Champie" born happy and healthy," he penned. 
Further on, Wystrach thanked his followers for sending their positive thoughts and prayers to his wife and son. He added they were doing great and mentioned he was overwhelmed with joy.

Mark Wystrach with his baby son on December 5, 2021. (Photo: Mark Wystrach's Instagram)
Friends and followers quickly flooded the post's comment section with felicitations.
Famed actress Jessica Chastain wrote, "Congrats papa!!!" while television personality Leah Ashley expressed her gladness over a smooth delivery. 
Professional photographer Corey Arnold also chimed in, sharing he couldn't wait for their children to hang out. 
Hours before Wystrach announced the joyous news, he had informed his followers about the delivery. He had uploaded a picture of his wife flaunting her baby bump and mentioned they were delivering their son that day. 
He lauded his wife, stating he was blown away by how gracefully she handled the pregnancy.
The Sonoita native admitted he was away most of the time, touring. Thankfully, his partner handled the situation while also looking after their two-year-old daughter, Sundance "Sunny" Leon.
"I am forever grateful to have the woman of my dreams as my partner, lover and best friend," Wystrach wrote at the end his heartfelt message. 
Mark Wystrach and His Wife Married in 2019
Wystrach and Haney started dating in April 2017. They met on Instagram and went on their first date at a bufalina pizza restaurant in Austin, Texas. 
Midland's lead singer knew Haney was the one for him at their very first meeting. "I knew from the first moment I laid eyes on her I was going to marry her," he confessed to People in May 2019. 
After dating for around a year and a half, Wystrach got on one knee during their visit to Haney's father. He proposed to his girlfriend a custom-made ring inscribed with small rectangular diamonds. 
"It kind of was unplanned and just unfolded naturally," he recounted to People. He shared that the special moment had taken place after a big thunderstorm, and he knew it was a sign when the sun popped up. 
With Haney's affirmation, the pair married via an intimate wedding in October 2019.
Their outdoor wedding was held at The Contemporary Austin Laguna Gloria, and the reception was at the Hotel Saint Cecilia in Austin, Texas. 
"Got hitched in a quiet lil ceremony today," Wystrach wrote on his Instagram post comprising glimpses of their big day. He also added he was "mighty proud & delighted" to call Haney his wife.
Over a month after, the married duo welcomed their baby daughter Sunny into their family. She was born on November 21, 2019.