Is Madison Bailey Dating? Explore Her Relationship Status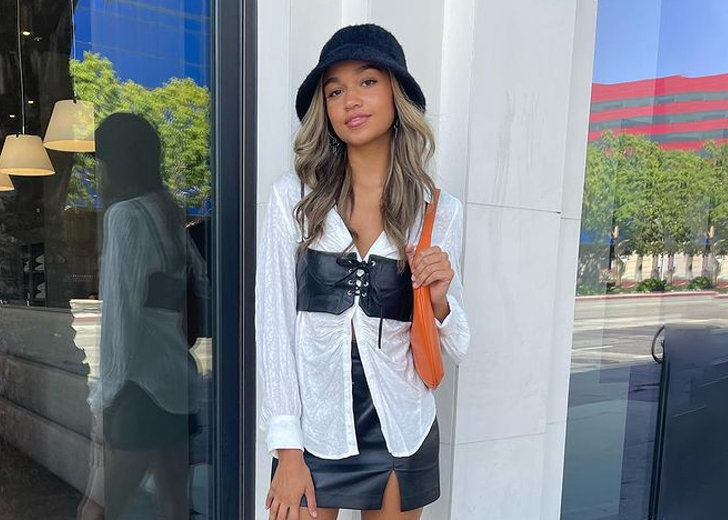 Outer Banks star Madison Bailey, who is a lesbian, achieved stardom after playing Kiara in the teen drama series. 
Despite her young age, she has amassed a huge fan following because of her works. The gay icon has over 6.7 million followers on Instagram alone.
There, Bailey shares a lot about her professional and personal life with her fans. The actress also regularly posts about her relationship with her girlfriend.
Who Is Madison Bailey Dating? What Is Her Relationship Status?
Bailey is dating UNC-Charlotte basketball player Mariah Linney. The two went Instagram and TikTok official in June 2020 with a short video.
There, she can be seen mouthing along to voice over, saying, "I'm not falling" repeatedly before eventually admitting to falling in love as Linney walks into the frame.
Bailey got to know her girlfriend through TikTok. Linney caught the Outer Banks star's eyes because of one of her TikToks. 
When talking to ET, Bailey shared she hunted down Linney's Instagram after watching the video. They started DMing each other before eventually deciding to meet up in person.
"I was staying at a hotel in Charleston and was like, 'Just come hang out. We can chat, chill. Everything's closed so it's not like we can go out anywhere," she recounted. "And, then she just came out to L.A."
Bailey also expanded on their decision to go public with their relationship on social media.
"It's very serious. I had zero hesitation to post on social media about it because I was like, 'No matter what happens, you will be in my life forever.' I care about her so much… I think I am in Love."
Madison Bailey and Girlfriend's Relationship
Since the two started dating, Bailey and her girlfriend have hit multiple milestones in their relationship.
Both Bailey and Linney have taken to Instagram to mark these occasions. On June 8, 2021, she shared several pictures of herself and Linney together.
"365 with you," she captioned the post, followed by a butterfly and black heart emoji.

Madison Bailey with girlfriend Mariah Linney (Source: Instagram)
The next day, Linney made a follow up post where she revealed they had celebrated their anniversary all weekend.
Bailey also added that she was falling deeper for Linney the more time they spent together.  
Coming Out
Aside from her personal life, Bailey has also been very open about her journey of exploring her sexual identity.
She dated a girl when she was 18 but was still interested in boys. Because of this, she thought she was bisexual but later changed her mind when she dated a trans boy, who she was working with in a show.
The experience made her realize she was pansexual. However, she was initially afraid of coming out and was afraid of telling her mother about it. When she told her parents about it, they were cool about it. 
Bailey says coming out helped her feel "lighter." She described being able to be transparent about her personal life and let her fans in was "nice."
The actress also did not have to deal with shaming from anyone because of her sexuality. For the same reason, she considers herself lucky, as she did not have any lack of support, unlike for most members of the LGBTQ community.