Madelyn Cline and Zack Bia Spotted Together on Birthday Date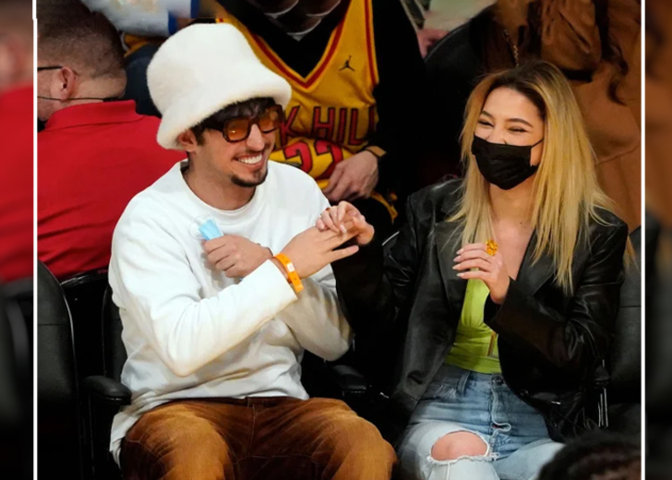 Madelyn Cline and Zack Bia are seemingly getting serious in their relationship.
The duo was spotted attending the Lakers game against Phoenix Suns at the Staples Center in Los Angeles on December 21, 2021, also Cline's 24th birthday. 
The budding actress wore a light green tank top and light blue knee cut jeans and completed the look with a black leather jacket and dark green shoes. 
Bia rocked a white sweater, faded brown jeans, and white sneakers. In addition, he donned a matching brown pair of sunglasses and a white woolen bucket hat. 
The pair was seen chatting and bursting into fits of laughter as they sat in the first row to witness the match.
And the pictures from the birthday date started making rounds on the internet, making fans speculate if they were seriously dating. 

An anonymous submission on Deuxmoi about Madelyn Cline and Zack Bia's birthday date. (Photo: Deuxmoi/Instagram) 
A day later, an anonymous follower who was present at the game reported to Deuxmoi, stating that the duo was there by themselves and "seemed really cozy." 
The reporter added they shared Bia's white bucket hat during the game.
At the end of the message, the person opined they were dating and were celebrating Cline's birthday at the Lakers game. 
Madelyn Cline and Zack Bia's Relationship
In mid-December, Cline and Bia sparked dating rumors after Deuxmoi reported their budding chemistry through an Instagram story on December 18. 
The anonymous celebrity gossip mill had posted a picture of Cline with a guy who looked like Bia.
The insider claimed to have seen the duo walking by when he was at the car wash. 

Madelyn Cline and Zack Bia at the Lakers game in Los Angeles on December 21, 2021. (Photo: Instagram)
After posting the picture, Deuxmoi uploaded testimonials that hinted at their dating relationship. One individual alleged they were making out in a car while the person drove by them. 
While Deuxmoi insisted that the information came from a reliable source, neither Cline nor Bia confirmed dating. 
That being said, a source close to the couple told Us Weekly that they had spent a lot of time together. The insider remarked Cline was playing coy about the status of her relationship. 
As for why she kept her dating status a secret, they opined they had recently started seeing each other and hadn't labeled their relationship. 
The person also clarified why it wasn't weird for the 24-year-old to hang out with the DJ. 
"She's someone who can get along with anybody because of how kind she is," they explained after warning they might strike many people as an odd couple.
The source also added that they were "cute together." 
The rumors of Cline dating again came just a month after the news of her breakup with her ex-boyfriend, Chase Stokes, surfaced. 
The duo had met at the set of Outer Banks in 2019. While they quarantined together in April 2020, they confirmed their romance only two months later. 
They dated for a year and split amicably in 2021. "They've been trying to work it out for quite some time but decided going their separate ways was best," a source told Us Weekly in November 2021. 
Reportedly, they parted because of their busy schedules and have no bad feelings for each other. 
True to the statement, the source told the news outlet that Stokes had no problem with Cline dating someone else as long as she was with someone else.