Luke Prokop Becomes the First Openly Gay Player under NHL Contract
Luke Prokop announced he was gay via Instagram on July 19.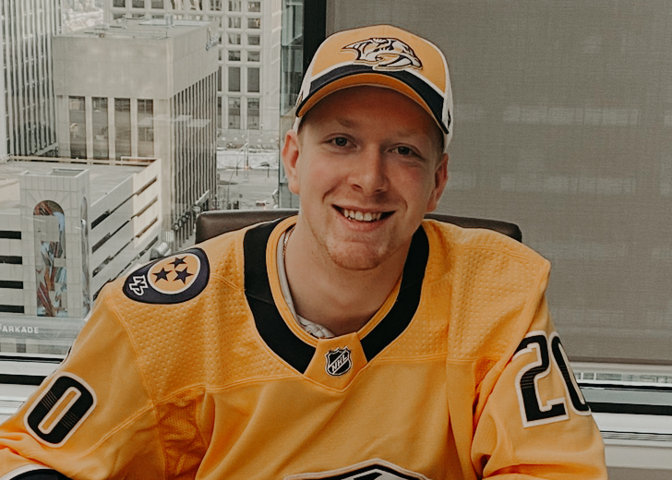 Luke Prokop is the first openly gay player under NHL contract. The 19-year-old Nashville Predators prospect made the announcement on Instagram, writing that he was no longer scared to hide his true self.
Prokop continued by sharing how coming out would allow him to bring his authentic self to the rink and help him fulfill his dream of playing in the NHL.
He also thanked all his friends, family, teammates, and agents who supported him throughout his journey, making it possible for him to finally bare his true self.
Prokop hopes his coming out will help more people understand that hockey is for everyone, and make it apparent that gay people are just as welcome in the hockey community.
He isn't the only one to share such views. NHL commissioner Gary Bettman also made a statement, expressing similar sentiments.
I share his hope that these announcements can become more common in the hockey community. LGBTQ players, coaches, and staff can only perform at their absolute best if they live their lives as their full and true selves. We do not take the meaning and importance of this announcement lightly.
Bettman also assured that the NHL would do everything to provide support to Prokop and any other athlete looking to follow in his footsteps.
Prokop's Decision To Come Out
On the same day that Prokop made the announcement on his Instagram, he also did an interview with ESPN. He opened up about his decision to come out. 
Prokop recounted the time he decided he couldn't go on hiding his true self.
I came home from Calgary after my season ended because of the covid. I was just laying in bed one night, just deleted a dating app for the fourth or fifth time and I was just extremely frustrated because I couldn't be my true authentic self. In that moment I said, 'enough's enough I'm accepting who I am.'
Prokop also mentioned that the season was hard for him because he still had conflicting thoughts, which affected his play. However, he had already revealed he was gay to some friends and family.
The first person from the Nashville Predators management team who learned of him being gay was the Assistant General Manager Brian Poyle, who expressed his full support right when he found out.
Prokop had a cathartic experience after talking to Poyle and started looking forward to the day he would come out publicly.
Prokop has received support from many NHL members including commissioner Bettman.
Fans have also rushed in to show that they are standing with him, with many appreciating and applauding his decision to come out.
Just a month earlier, Las Vegas Raiders star Carl Nassib had also come out, making him the first-ever openly gay player in the NFL.