'Love Island' Season 3 Winning Couple Olivia Kaiser and Korey Gandy Say They Aren't Official Yet
Olivia Kaiser and Korey Gandy are navigating their relationship one step at a time.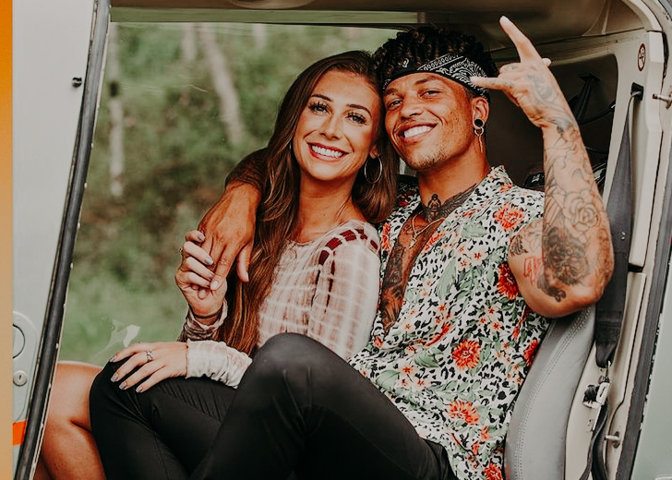 Olivia Kaiser and Korey Gandy won Season 3 of Love Island after voters chose them as their favorite couple on August 15. Throughout the season, the two grew close to each other but recently revealed that they aren't official yet.
While speaking to Entertainment Tonight, Kaiser and Gandy explained they were taking things one step at a time. The couple also revealed that they hadn't decided on what they were to each other and were just handling things as they came.
We're just vibing out, rolling with the punches. There's literally no pressure and we're very clear where we stand. For us, it is real. So I don't wanna rush some things as well as he doesn't wanna rush some things and not work out. 
Kaiser and Gandy are the oldest couple to have won Love Island so far. And just like the previous couples who won the last two seasons, the duo also decided to split the grand prize of $100,000 between themselves.
According to the program's format, the winning couple is given two envelopes, one has "$100,000" written on it while the other is blank. The one who gets the envelope with the amount written on it gets to decide whether they want to keep the money or split it with their partner.
This season, Gandy got the envelope with "$100,000" written on it, and he decided to split it instantaneously, stating it was the easiest decision of his life.
Kaiser and Gandy On 'Love Island'
Kaiser And Gandy coupled up officially on the 32nd day of the 40-day CBS reality show. Before getting together, Kaiser had paired up with Javonney Vega until he was dumped on day 17. As for Gandy, he had coupled up with five other girls — Kyra Lizama, Trina Njoroge, Floriza Diaz, Cashay Proudfoot, and Leslie Golden.
Following Kaiser and Gandy's official partnership on the show, the two had a meet and greet session with each other's families. When speaking to her mom, Kaiser shared what she had learned about herself during her time on the island.
I always knew I wasn't broken, but I've never felt I wasn't. My mind and heart just were not aligning. My mind knew I wasn't broken; I'm stronger than that… I put down those barriers, and I'm deserving… For once, I feel like I am.
During their time on the show, Kaiser and Gandy also encountered some unexpected situations. For instance, during the segment where the contestants found out what America thought of them, Kaiser was accused of acting like she liked Gandy.
In another segment, the contestants had to smell other's dirty laundry to determine whose pheromones they were most attracted to. All the islanders chose the people they were coupled with, except for Gandy and Alana Paolucci, who chose each other's clothes.